–
Carlos Alcaraz's run to the Cincinnati final guaranteed that he would stay No. 1 on this Monday – the Monday the seedings are established for the US Open.
In the end, it's symbolic more than anything as his greatest rival, Novak Djokovic, would be on the opposite end of the 128-player draw no matter how it shook out between the two of them.
But you couldn't tell any of this from the epic they played in Sunday's final. Just gripping, and won by Djokovic.
But others have made moves – notably Holger Rune. The Dane lost his opener in Toronto – and moved up a spot. He retired in his opener in Cincinnati – and moved up another spot to a career high No. 4. Timing is everything.
ON THE UPSWING
Holger Rune (DEN): No. 5 ========> No. 4 (Rune squeezes into the No. 4 spot, mostly because Stefanos Tsitsipas drops all the way down to No. 5. But the No. 4 seed is a … good seed at the US Open).
Casper Ruud (NOR): No. 7 ========> No. 5 (Ruud is back in the top five, even with a second-round loss in Cincinnati).
Alexander Zverev (GER): No. 17 ========> No. 12 (Zverev's comeback from that gruesome ankle injury at 2022 Roland Garros, in addition to everything swirling around him off the court, has been steady. He's back up to No. 12 for the first time since the start of the season after his Cincy semifinal).
Hubert Hurkacz (POL): No. 17 ========> No. 14 (So many near-misses from Hurkacz in 2023, but he's on the rise again after his Cincinnati semi).
Alejandro Davidovich Fokina (ESP): No. 23 ========> No. 21 (Another slight rise and another career high for the Spaniard, who made the third round in Cincinnati but had to retire in that match. Hopefully he's okay for New York, because his last match in Toronto was a quick defeat as well).
Adrian Mannarino (FRA): No. 32 ========> No. 23 (One off his career high for the 35-year-old Mannarino, who's in a tight secdion of the rankings but has chosen not to defend his title – and 250 points – in Winston-Salem this week in favour of rest, after making the Cincinnati quarterfinals. So it's a rise that's likely to be shortlived).
Alexei Popyrin (AUS): No. 58 ========> No. 40 (A career high for Popyrin, who took a lucky loser spot and ran it all the way to the Cincy quarterfinals).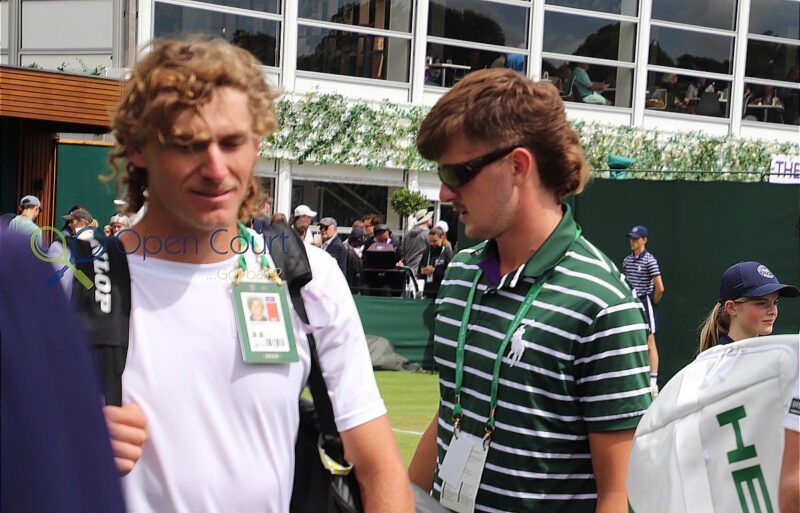 Max Purcell (AUS): No. 70 ========> No. 47 (Purcell is letting his mullet grow out. And it doesn't seem to be hurting him as he puts up his second consecutive good week on the Masters 1000 circuit. He's into the top 50 for the first time, at a career high. Purcell qualified, and reached the quarterfinals; he faces Marco Cecchinato in the first round of Winston-Salem).
Dusan Lajovic (SRB): No. 66 ========> No. 52 (Lajovic, 33, is a quiet one. But he can be a giant slayer at times. He qualified and reached the round of 16 in Cincinnati).
Gael Monfils (FRA): No. 211 ========> No. 163 (Monfils's third-round effort in Cincinnati gets his "real" ranking back into the top 200).
Tristan Boyer (USA): No. 492 ========> No. 366 (The 22-year-old out of the US college system helped himself big time, qualifying at the Stanford Challenger and going all the way to the final, and establishing by far a new career high).
Leo Borg (SWE): No. 407 ========> No. 375 (A new career high for Bjorn's 20-year-old son, who got to the final of one ITF in Jakarta, and won another one).
ON THE DOWNSWING
Stefanos Tsitsipas (GRE): No. 4 ========> No. 7 (Still a top-eight seed for Tsitsiipas, whose third-round loss meant that he dropped most of the points from his finals appearance a year ago. But it's not No. 4, so assuming he can make the quarterfinals he'll have to face a top-four seed to advance. Like Denis Shapovalov, he has a lot of points to defend in the fall, and no particularly good form to count on going into it. That, of course, can all change in New York).
Felix Auger-Aliassime (CAN): No. 14 ========> No. 15 (Still top 15 for the Canadian despite his R32 loss in Cincinnati, a dispiriting one at that. He made the quarters a year ago, and doesn't have a ton to defend in New York, which is the positive).
Denis Shapovalov (CAN): No. 22 ========> No. 26 (Shapovalov, whose undetermined knee injury keeps prolonging his absence from the circuit – he's missed the entire North American hard-court swing, including the US Open – drops a little with the third-round points dropping off. He has 90 points from the US Open in 2022 also coming off in a few weeks – and a lot more points in the fall).
Borna Coric (CRO): No. 16 ========> No. 29 (The defending Cincinnati champion loses in the third round, and drops a wack of points. He plays qualifier Marchenko or ALT Hijikata in the second round of Winston-Salem this week, as the No. 1 seed).
Botic van de Zandschulp (NED): No. 47 ========> No. 55 (The Dutchman, whose career high of No. 22 came exactly a year ago, didn't play Canada or Cincinnati. He meets Arthur Rinderknech or Dominic Thiem in the second round of Winston-Salem – not easy however it shakes out).
Pedro Cachin (ARG): No. 49 ========> No. 66 (Just into the top 50, Cachin falls out as he drops points from winning a Challenger in Santo Domingo a year ago, while being idle last week. He's defending third-round points at the US Open, where he had a great draw in facing players outside the top 300 in the first two rounds, and beating them both in fifth-set tiebreaks).
Diego Schwartzman (ARG): No. 97 ========> No. 116 (Schwartzman is out of the top 100 again as he lost in the final round of qualifying in Cincinnati. A year ago, he was ranked No. 16 and made the round of 16 there).
Tomas Machac (CZE): No. 101 ========> No. 123 (The other half of Czech player Katerina Siniakova lost in the second round of a Challenger in Poland, thus not making up for his 2022 points from winning that same Challenger a year ago).
Nick Kyrgios (AUS): No. 127 ========> No. 135 (No, we don't know when Kyrgios will play again. But his ranking will be pretty irrelevant).
Marin Cilic (CRO): No. 121 ========> No. 144 (Cilic had visions of returning during the hard-court summer swing. But it won't happen, and his points from a third round last year drop. He also has round-of-16 points from the US Open coming up to defend. Cilic played one match in Pune in early January, withdrew after that, and played one match at his home-country tournament in Umag last month, after knee surgery. That's it).
John Isner (USA): No. 106 ========> No. 158 (It sounds as though Isner, who lost his opener in Cincinnati after making the quarterfinals (and beating Korda and Huskacz in the process) last year, will say so long at Flushing Meadows. He's had impressive longevity for a guy his size, to say the least).
Vasek Pospisil (CAN): No. 168 ========> No. 196 (Pospisil remains barely inside the top 200 after dropping the points from his semifinal effort at the Vancouver Challenger a year ago. He's only played four tournaments since January, and hasn't won a match since then, with a long break from early February through Wimbledon. He'll look to make a move in the US Open qualifying this week).
Filip Krajinovic (SRB): No. 265 ========> No. 301 (Another drop for Krajinovic, who hasn't played since losing in straight sets in the first round of Roland Garros to Frances Tiafoe, and banking 69K Euros. His last main draw win at the ATP level in 2023 was in Montpellier in early February).
Nikoloz Basilashvili (GEO): No. 326 ========> No. 345 (Another player MIA, Basilashvili hasn't taken the court since a quick loss in the first round of Roland Garros qualifying, which earned him 16K Euros. In fact, Basilashvili has just one main-draw win this year – also in the first round of Montpellier – in the 12 tournaments he played in rapid successfion up to Roland Garros. He still earned $162,000 US for that).
Fernando Verdasco (ESP): No. 342 ========> No. 379 (Verdasco continues to play on the Challenger circuit. But first-round losses such as the one in Stanford this past week aren't going to help that number).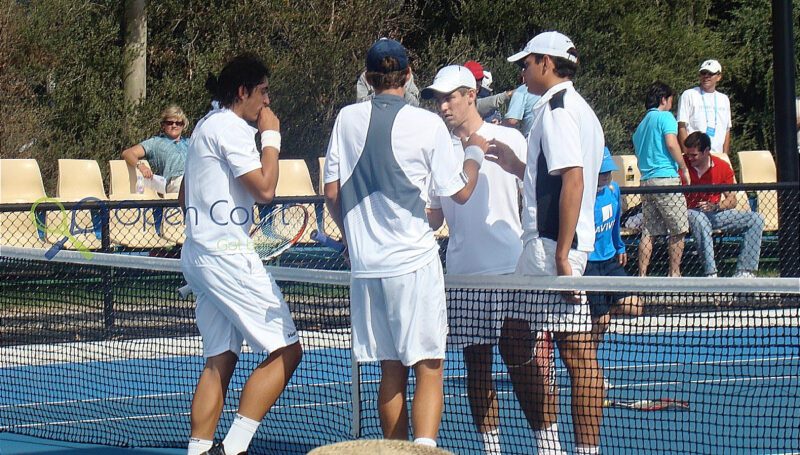 Bradley Klahn (USA): No. 706 ========> No. 864 (The 33-year-old lost in the first round of the Stanford Challenger this past week, then announced he was calling it a career. He reached a career high of No. 63 back in 2014).
THE CANADIANS
DOUBLES RANKINGS
Gonzalez and Molteni leap up the rankings after winning Cincinnati.
THE ROAD TO TURIN
THE NEXT-GEN RACE
About Post Author