–
CANCÚN, Mexico – While the WTA tour was wrapping up with its Tour finals, the ATP Tour was in full swing with the final Masters 1000 of the season in the Paris suburbs.
What it did was finalize the list of the eight players who qualified for the finals in Turin in singles.
And it was another triumph of mind over body for Novak Djokovic, who won his 40th career Masters 1000 title, his seventh in Paris-Bercy. The gap between himself and No. 2 Carlos Alcaraz is widening.
Canada now only has … one player ranked in the top 100 in either singles OR doubles this week. This is a far, far cry from what you'd expect given the millions upon millions of dollars spent by Tennis Canada over the last 15 years on its program.
The final WTA rankings won't be out until the delayed singles final is played Monday between Iga Swiatek and Jessica Pegula – which will decide the year-end No. 1.
ON THE UPSWING
Grigor Dimitrov (BUL): No. 17 ========> No. 14 (The 32-year-old was emotional after losing to Djokovic in the Paris final. But the tears were also of pride and perspective, as he has ended up having a darn good year in a season where no one expected much of him).
Ugo Humbert (FRA): No. 26 ========> No. 23 (Tennis players are resilient creatures. And Humbert, ranked outside the top 100 at the start of the season, has come all the way back and is at a career high after last week. He has a chance to do more in Metz. He joins Tallon Griekspoor at No. 21 and Nicolas Jarry at No. 19 in that area of the draw in boasting a career high this week).
Roman Safiullin (RUS): No. 45 ========> No. 39 (Into the top 40 for the first time in his career at age 26, Safiullin has had an "Aslan Karatsev" type of career bump this year).
Botic van de Zandschulp (NED): No. 60 ========> No. 51 (A bit of a revival at year's end for the Dutchman, who qualified and won two rounds in Paris and is just a few points from getting back into the top 50. He's in Metz this week).
Thanasi Kokkinakis (AUS): No. 67 ========> No. 65 (Kokkinakis, now 27, has come all the way back from being down and out in his career. And in the last two weeks, he has bested his previous career high of No. 69, first set all the way in 2015 and briefly matches in 2022).
Jack Draper (GBR): No. 91 ========> No. 82 (Beset by injuries for much of 2023, the 21-year-old is finishing strong and is back on the comeup after winning the Bergamo Challenger. He's in Metz this week).
Taro Daniel (JPN): No. 97 ========> No. 86 (Daniel has flirted with the Maginot Line between being main draw at majors and falling just short, so many times. But winning the Sydney Challenger on the one-year anniversary of the tragic early loss of his mother puts him in good stead. He's playing another one in Matsuyama, Japan this week).
Dominic Thiem (AUT): No. 108 ========> No. 95 (Thiem has escaped that sub-100 ranking with a run from the qualifying and into the second round in Paris. And he's playing Metz this week. So he should be straight into Australia).
David Goffin (BEL): No. 110 ========> No. 104 (Goffin, 32, is trying his damndest not to have to qualify in Australia. He made a dent last week by making the Bergamo final. And he's playing another Challenger in Helsinki this week. He's probably about 25-30 points short).
Alejandro Tabilo (CHI): No. 125 ========> No. 109 (The Canadian-Chilean is in a similar situation as Goffin. And he made a dent by winning the Guayaquil Challenger on clay last week. He's playing another one in Peru this week).
Beibit Zhukayev (KAZ): No. 247 ========> No. 195 (Pretty obscure player. But he moves into the top 200 for the first time at age 23, after winning the Charlottesville Challenger. He's in Knoxville this week).
Antoine Bellier (SUI): No. 326 ========> No. 250 (It's no surprise the old-school serve-volleyer did well on the only tournament remaining to be played on carpet. He went from the qualifying to the title at the Ismaning Challenger).
ON THE DOWNSWING
Holger Rune (DEN): No. 7 ========> No. 10 (Rune drops a LOTTA points from winning last year's Paris Masters, not made up by making the quarterfinals. He's in the top 10, still. But he'll have an opportunity to earn some big numbers in Turin if his game is up to it).
Frances Tiafoe (USA): No. 14 ========> No. 16 (Tiafoe's season has ended with a whimper, with a first-round loss in Paris, Tokyo, Shanghai, and two losses in Davis Cup in the last six weeks).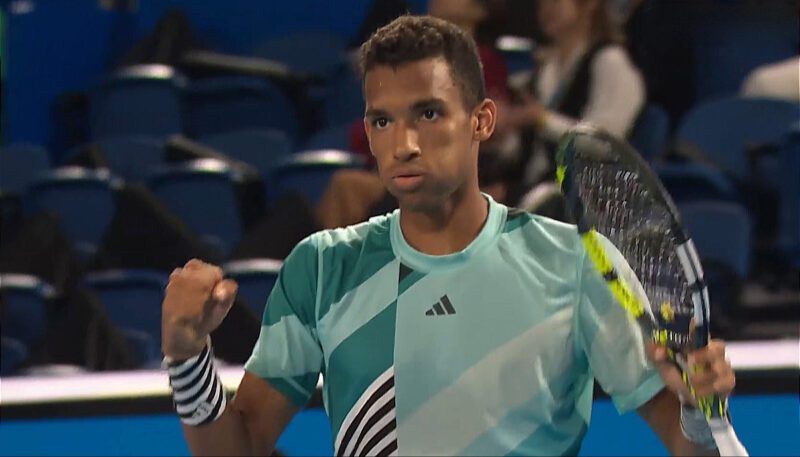 Felix Auger-Aliassime (CAN): No. 19 ========> No. 22 (The Canadian lost his second-round match in Paris, after making the quarterfinals a year ago. So there's a drop. But not the one many might have predicted as he tried to back up his strong 2022 finish. But he'll drop some points from last year's ATP Finals next week. And so he may have some work to do at the United Cup, though, to ensure he doesn't go into the Australian Open unseeded).
Richard Gasquet (FRA): No. 68 ========> No. 77 (Gasquet drops down a fair bit, even though he's only down net 45 points).
Denis Shapovalov (CAN): No. 93 ========> No. 102 (It's not a great Canadian week, as the 24-year-old falls outside the top 100 for the first time since … There's no word on whether his knee is actually getting better, or whether he'll be good to go to start 2024. And he's no longer with his IMG agent. It's been a year to forget).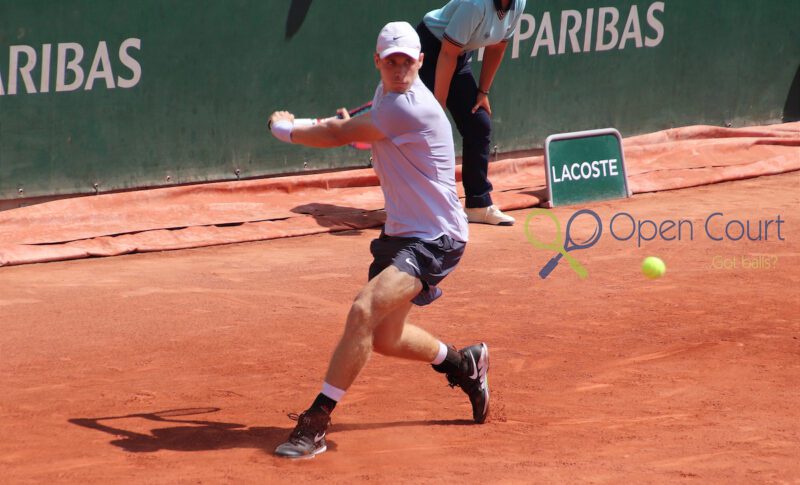 Fabio Fognini (ITA): No. 134 ========> No. 147 (The 36-year-old has a wild card this week in Metz, after moving up with a quarterfinal at the Bergamo Challenger. Will he go all the way to Australia to play the qualifying? Time will tell).
John Isner (USA): No. 156 ========> No. 171 (It appears Isner hasn't taken himself off the rankings train. So this number will just slowly disappear into the abyss).
Corentin Moutet (FRA): No. 131 ========> No. 173 (Tough blow for Moutet, who is managing a wrist injury. He drops points from a run through the qualifying and onto the third round in Bercy a year ago. But will try his luck in Helsinki this week).
Nikoloz Basilashvili (GEO): No. 393 ========> No. 496 (It's rare to see a former top-20 player's career go down the drain so quickly. But the Georgian, only 31, loses in the final round of qualifying at the Bergamo Challenger and drops nearly out of the top 500. He's 1-5 at the ATP level. And his last main-draw match win of any kind came in Doha in February. He was out from Roland Garros to the Hamburg Challenger in mid-October. Basilashvili's career-high ranking of No. 16 came in 2019).
THE CANADIANS
TOUR FINALS – SINGLES
TOUR FINALS – DOUBLES
Rinky Hijikata and Jason Kubler (No. 17 in the race), get the 8th spot because they won the Australian Open.
NEXT-GEN FINALS
THE AO MAIN DRAW WATCH
About Post Author