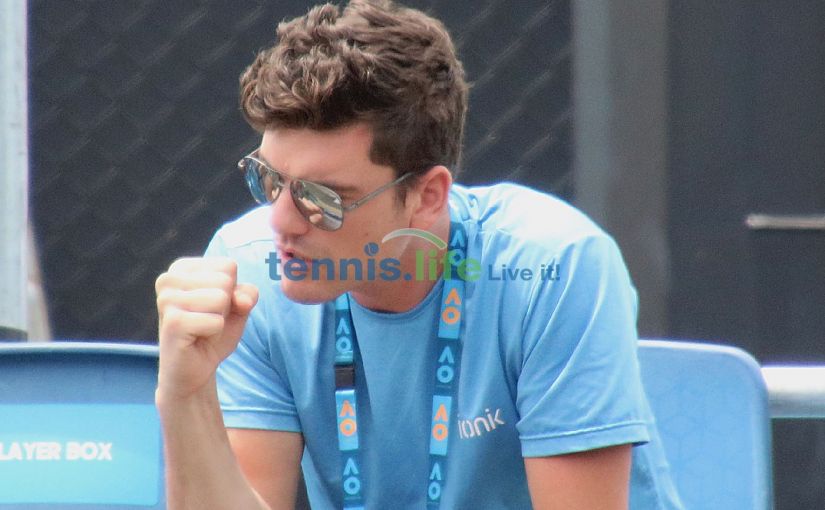 Did you think Frank (the Tank) Dancevic was done?
You've got another think coming.
The 34-year-old Canadian Davis Cup captain will lead his young squad at the finals in Madrid in November.
But he has hit the courts again after not playing a professional match since the first round of Rogers Cup qualifying last August.
While Dancevic hasn't completely closed the door on singles, he's pivoting and going in a completely different direction.
Meet Frank Dancevic: doubles specialist.
Teaming with a former world No. 7
In this new adventure, Dancevic has a partner in crime.
He is former world No. 7 Florin Mergea of Romania.
"Florin and I have been talking since last summer. He wanted to start back up; he missed playing the tour, missed playing tournaments. I thought it was a great opportunity to play with a guy who was top player, made Grand Slam semis – and believes in me," Dancevic told tennis.life from Mergea's home in Targu Jiu, about halfway between Bucharest and Timisoara. "He believes in my game, believes we can be a great team together."
Frank & Florin – a long history
Dancevic has known Mergea since juniors; they played each other at the Eddie Herr all the way back in 2001.
The Romanian was the No. 2 junior in the world in July, 2003; Dancevic hit No. 20 in 2001 and was a better doubles player than singles player back then. He won junior Wimbledon that year and reached the Australian Open final, both with Giovanni Lapentti.
Mergea was beating Berdych and Murray and Tsonga and Zverev (Mischa) and Monfils in singles. He reached the Australian Open junior final in 2003 while also having great doubles success with countryman Horia Tecau.
But while Dancevic reached No. 65 in singles, and had memorable moments including beating David Nalbandian at Wimbledon and reaching the Rogers Cup quarterfinals at home before taking Rafael Nadal to three sets, Mergea's pro singles career didn't live up to his junior results.
He reached a career high of No. 243 early on, in 2006. And he stopped playing singles regularly on the Futures circuit back in 2010.
But as a doubles player, he shone.
Silver medal in Rio
Mergea has won seven doubles titles with six different partners – notably taking Madrid in 2015 with Rohan Bopanna. They reached the ATP Tour Finals doubles final that year and made the final in Madrid again the following year. And Mergea and Tecau – reunited in an Olympic year – took silver at the Rio Olympics, losing to Rafael Nadal and Marc Lopez in the gold-medal match.
Also 34, Mergea has struggled with injuries the last few years and has been off the Tour since last September, when won his first round at a Challenger in Romania. That had been his first Tour doubles win since April, with a different partner nearly every week.
As well – just like Dancevic – he had also become a father.
"Somebody is willing to start from scratch with me, who was a top-10 player. You don't get that opportunity every day," Dancevic said. "We're in the same kind of position in our career: both family guys, both have a kid. He struggled with injuries the last few years, I was figuring my life out. So we're both starting from the same spot."
Back to the Future(s)
After captaining Canada to an exciting comeback win over Slovakia in Bratislava two weeks ago, Dancevic immediately headed to Targu Jiu to get to work.
He'll be there another week. And the new duo plans to make its debut at the Drummondville Challenger in mid-March. The tournament is less than an hour's drive from Dancevic's home in the Montreal suburbs.
After that, it's back to the Futures.
Dancevic and Mergea plan to play four $25K events in Santa Margarita di Pula, Sardinia, followed by four more in Bosnia (one of them a $15K) in May.
(That plan is not nearly as simple as it was even two months ago – before all the changes and the launching of the controversial ITF Transition Tour. Even if they wanted to, Dancevic and Mergea couldn't get into the $15,000 tournaments. An even if they did, there are no longer any ATP Tour points on offer).
"This is going to be an investment, the first six months, to break through. We're going to be losing money – guaranteed. I don't even know what we'd earn if we won every single event," Dancevic said. "It's not about the money, for sure. Our focus is going to be to make the top 10 (in the ITF rankings)."
If Dancevic and Mergea can do that, they can enter Challengers for the rest of the season, because of the reserved spots at the Challenger level for the top-performing teams on the ITF circuit. "It's kind of the only way we can break through right now," he added. "It's tough. But you have to start somewhere."
Juggling family, Davis Cup and tennis
Giving up the singles dream isn't an easy decision for most tennis players. But for Dancevic, with the Davis Cup captaincy, a new father and his age, it was the best option. He tried to captain and keep playing singles in 2018 – he played 17 events from January through the Rogers Cup. But it was too much.
The new Davis Cup format means fewer weeks of commitment, leaving more for training and competing. But Dancevic is realistic enough to know that, at 34, if he put in a full effort to rise in the rankings from his current No. 336 – and then suffered an injury – that would basically be it.
"I'm still young, and still have many years ahead of me. If I knew I'd be healthy for the next four years, it might be a different story. But I have to look at what's best for my family, the captaincy – managing everything – and what would be the best thing for me as well. I'd be scattered everywhere," he said. "I'm a husband, a father. Those are big priorities in my life. And we want to win the Davis Cup one day."
Transitioning to doubles
Dancevic hasn't played doubles all that much in his career, focusing on singles. But he was good at it – and not only in juniors.
He reached the ATP Tokyo final, won two titles on the Challenger circuit and made seven other Challenger finals. He also went 3-1 in Davis Cup.
"As a singles player, I had belief. Growing up as a kid , I thought I was going to be No. 1 in the world. But once I was on tour for six, seven years, I really didn't believe. I believed I could make top-50 or top-40 one day. And I got close; I got to 65." he said. "But in doubles I have a different feeling. I really feel like I'm better than a lot of players that are in the top 50. And that I can eventually get there if I wok hard at my game.
"It won't be easy. It's going to take a lot of work and commitment. But I feel like I have the ability to get to the top 30," he added. "And once you get there, you never know what can happen. I could easily play until I'm 40."
Training in Romania
Dancevic and Mergea are in Romania working on their game, getting to know each other on court, and doing doubles drills – putting a game plan together for how they'll hit the Tour.
Having such an accomplished partner is a huge asset, because Dancevic admits doubles is a completely different game.
"It's played at a different frequency – less margin, lots of ups and downs, things just happen fast, there are a lot more swings in matches," he said. "In doubles, one point changes the whole set. In singles, for the most part, the better player wins whereas there's a lot more chance involved in doubles."
He said there were a lot more tactics, more exhaustive study of the opponents' patterns. "A lot of challenges, a lot of things I'm going to have to learn and am willing to learn," he said. "But it's all exciting stuff, because it's all different to me."
Dancevic doesn't have the cannon serve that is a trademark of some doubles specialists. But he thinks his hard, flat delivery, which stays low, means opponents have trouble finding a lot of angles on the return.
His aggressive returning, he believes, robs opponents of time. He can generate a lot of power from the opponent's serve with his short return swings, moving well into the court.
"I served and volleyed a lot in the early days of my career, so I'm comfortable moving forward. It's about sharpening up the hands, learning the angle and court positioning," he said. "The fundamentals are there."
Doing it for the next generation
Dancevic was debating the next step in his career for months. And then wife Nikolina said to him. "Wouldn't you love it if Alex (son Alexander, 15 months old) were able to watch you play one day – when he's old enough to know what's going on?"
And that was the clincher.
Frank the Tank is back. In a career that already has a memoir's worth of anecdotes, he's writing the next chapter.
"It would be a great finish to my career, to have my kid watch me play, instead of telling him stories one day about how I used to be a player," he said. "In a couple of years, he's going to understand. And that's the ultimate feeling – to have your family there and have your little boy watching you and cheering from the sidelines a a bigger event.
"I think I would regret it later on, if he was never able to watch me play."