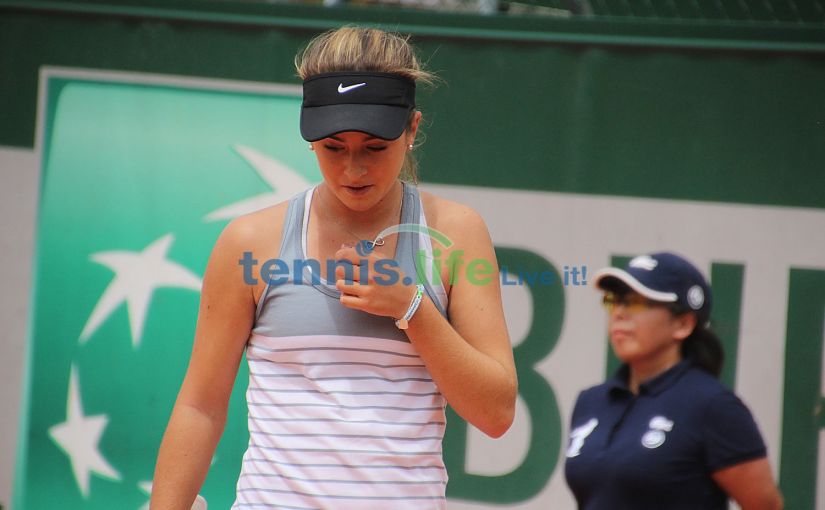 American Cici Bellis, who turns 20 on Monday, has been out of action since last year's Miami Open, where she lost in the first round to Victoria Azarenka.
There have been a few updates since then.
But she has never returned to action.
Now, after a post on Noah Rubin's Behind the Racquet Instagram account (a must-follow), we know why.
The kid has been living a nightmare.
Keep in mind that not only is Bellis a promising prospect fully supported by the USTA, she also comes from a well-off-background. We say this only because she's lucky enough to be able to access the best medical care in the world, in case of an injury.
And yet, it's been a complete disaster. And it appears far from over.
Monterrey the starting point
Two years ago, at the tournament in Monterrey that concludes Sunday, Bellis played Naomi Broady of Great Britain in the first round.
She lost 7-6 (7), 6-4, and says in the post that her arms were sore "for about four days."
It was diagnosed as tendonitis. She went on anti-inflammatories for about five months, during which she made the semis in Mallorca and at her home tournament in Stanford. At 18, she was inside the top 40.
After four consecutive first-round losses, Bellis ended her season in late September and started back during the 2018 Australian swing.
In Doha in February, she went from the qualifying to the quarters. But then …
"During Dubai I literally felt my elbow crack," she writes.
One, two, three … four surgeries
In short order, Bellis
•found out she had a too-long wrist bone, and had a first surgery to repair three tears in her wrist.
*another examination found that two bone spurs collided when she straightened her elbow, and the main one was fractured.
*a second surgery was performed, to shave down the bone spur.
Bellis was hitting again, and excited at the prospect of returning to the Tour. She even signed on for the exhibition event at the Hawaii Open in late December.
*a third surgery in November to "basically cut my bone in half, shortened it, and then put a plate in."
The plate was too big, it turns out. Last week, Bellis had a fourth surgery, to have the plate removed.
Here's the Instagram post.
Where the young American is now, is to be determined.
"There is no way I can do this anymore, but tennis is everything to me. I wouldn't have done this if I didn't love this sport," she writes.
A heavy load, at a young age
All of this could well have happened regardless of her path to the pros. But Bellis was a precocious phenom. And she played a LOT of tennis, at a very, very young age.
At age 13, she made her debut on the ITF junior circuit as a wild card – and played nine matches in singles and doubles that week. From November, 2012 through the end of 2013, she played 73 matches.
In one two-week period in April, 2014, between the USTA Spring Championships and the Easter Bowl, she played … 18 matches.
Bellis was 14 when she began playing ITF Pro Circuit events.
In all in 2014, she played 35 pro matches … and 84 junior matches.
In 2015, she played a lot less – 33 pro matches, and five in juniors.
But 2016 was busy again, even if her junior days were behind her. Bellis played 45 pro matches by mid-June – and 85 in all during the season.
She's not a particularly tall, strong, muscular young woman. Quite the opposite, in fact. This was a heavy load. Not to mention the hours upon hours of hitting tennis balls.