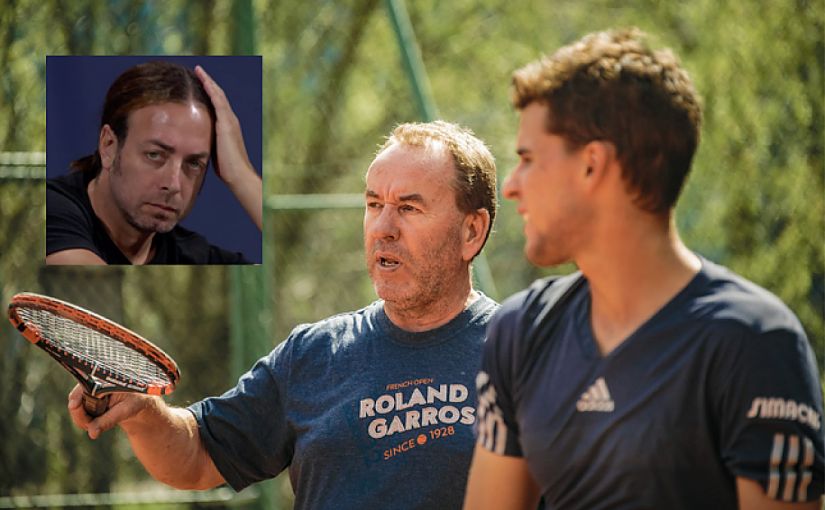 A LOT of coaching news as the 2019 clay-court season dawns.
Top-20 Canadian Denis Shapovalov has parted ways with Rob Steckley and is back with former coach Adriano Furorivia, .
Also, in the last week, Dominic Thiem has confirmed some big moves.
There's a certain commonality between the two bits of news.
Both are coming off a spectacular result during the Sunshine Double.
Shapovalov reached the semifinals in Miami. Thiem shocked Roger Federer in the final (after beating Milos Raonic in a marathon in the semis) and won Indian Wells
Both have made coaching changes going into the clay season, as Nicolas Massu will become the main coach as Thiem's lifelong coach Günter Bresnik takes a step back.
As it happens, back in late 2016 when "new" Shapovalov Adriano Fuorivia was still on board, Shapovalov went to Tenerife, Spain and did a trial with Bresnik during the off-season.
It was a short-lived one, as Shapovalov injured his ankle. And Bresnik already had his hands full.
Like a parent, raise them to leave the nest
Bresnik speaks (a bit cryptically) about the change to the Austrian Press Association (all quotes directly through Google Translate as our German isn't up to snuff).
"Dominic is 26 this year and is still partially perceived in public as if he were a small child," Bresnik said in an Austria Presse Agentur interview published in Der Standard. "I've always said my ultimate goal as a coach is that Dominic is independent and completely independent."
The Indian Wells was an unexpectedly great result after a slow start to the 2019 season, notably the lack of wins on Thiem's bread-and-butter South American clay-court circuit.
Thiem had a lingering illness, never fully disclosed but that had as one consequence overall body pain. He even skipped Austria's Davis Cup qualifier in February.
Massu to the fore for clay
Massu, who began helping Thiem during that South American swing and also accompanied him on on the U.S. swing, will be there as the main coach for the European clay-court season.
Except, the Bresnik APA interview indicated, in Barcelona, because of a previous commitment. Thiem's father will be there with him.
"What's in two months, I do not know, but the Dominic is good with Nicolas Massu. It is crucial that he plays successfully tennis," Bresnik said in an APA interview last week. "I've been looking for a touring coach for Dominic for two years, this time we've tried Nicolas Massu and it works."
Bresnik still coaches Ernests Gulbis. So he would likely still be in Paris for the French Open.
Plus, he remains Thiem's manager. So he's far from out of the picture.
Another piece on SPOX.com after a Thiem media availability last week indicated that Thiem has added fitness coach Duglas Cordero for some 15 weeks during the season, to join physio Alex Stober.
Cordero, who has worked with Fabio Fognini and Francesca Schiavone among other players, is based in Miami.
So from the looks of it, Thiem is not subtracting or changing – he's adding.
At 25, ranked No. 5, he's approaching his peak. And with so many young kids coming up these days, it's time to stake his claim and make the big move.
A lifelong coach
In some ways, it's a surprising development. In most ways, not so much.
When Bresnik began coaching Thiem, he was a boy. Now he's a 26-year-old man.
Think about how your relationship with your father would have changed over all that time. It is a hard transition to make from guru and all-knowing coach to mere employee, in a sense.
The way Bresnik put it: in the early part of a career, the coach is everything. During that transition to the pro tour, they are more or less equals. But after that, it's all about the player and not the coach.
"It's clear after 15 or 16 years that we spent more time together than I did with my parents and he probably with his children, it's like being in a marriage, there are good and bad times," Thiem said. "It is, I think, now good that Massu extends the team and everything. We'll see more later."