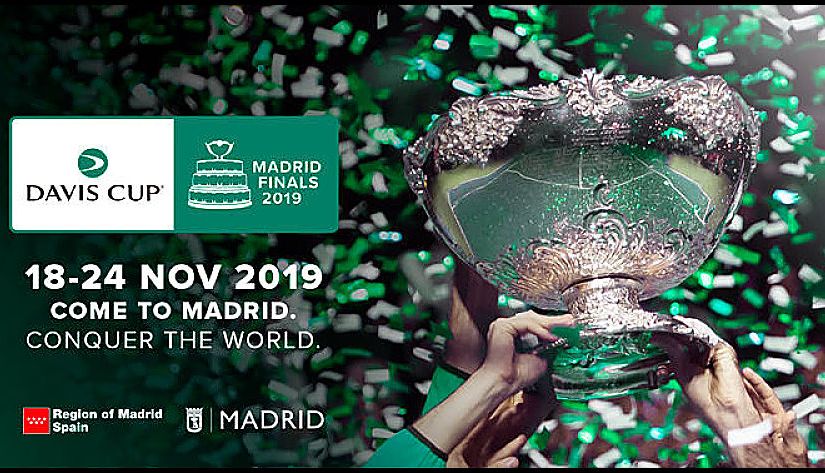 We navigated the rabbit hole of the Davis Cup Finals ticketing process – so you don't have to!
Here's what we found.
Tickets for the first Davis Cup finals of the Kosmos era went on sale today.
And yes, it's complicated.
On the plus side, the fact that the schedule for the pool matches has already been set, eight months ahead of the actual event, helps fans who want to plan. And it ensures that they can buy tickets only for the nation they want to support.
The sticker prices on the tickets are rather a meaningless number.
For this opening sale, the tournament already is offering a 20 per cent discount. From Friday until July 15, the discount is 15 per cent. And even after that, right through the end of the tournament, you can get a 10 per cent discount.
The array of pricing and options hurts the brain. But part of it is that the various nations have been basically assigned one court. And with three courts of different sizes, the ranges are wide.
The event clearly expects the Argentine fans to turn out in droves, since both pool matches involving that country are both scheduled for the main court (it will be interesting to see how that interest is maintained if Juan Martin del Potro doesn't play).
That's also true for host Spain as well as Croatia. As it happens, Russia plays both those teams, so it also gets the centre court (12,442 capacity).
France, Germany, Serbia and Chile (with one tie against Argentina) get one tie on centre court, one on Stadium 2 (2,923 capacity).
Canada, Italy and the US (Group F) play evening matches on Stadium 2. Japan plays both its ties on Stadium 2 during the day.
Belgium, Colombia and Australia (Group D), get evening matches on Stadium 3. (1,712 capacity). Kazakhstan , Great Britain and the Netherlands (Group E) get day matches on the smallest court.
There are also packages for all the the ties played on a specific court, or a two-pack for both the semifinals on Saturday, Nov. 23.
Cheer for your team – if you can find it
We tried out the system to purchase tickets for Canada, as a sample.
When you click on Canada in "Follow your country", and then for the opening tie Nov. 18 against Italy, you are taken to a graphic that indicates the sections for one team, and the sections for the opponents.
Obviously, with a choice, you would opt to sit with like-minded fans. Except, there's no indication of which is which.
One team is referred to as the "higher-ranked" team. The other is the "other team".
And in this configuration, there are only a few of the designated sections that still have tickets remaining (the darker ones).
All the tickets in Stadium 2 are 72 Euros for the country two-session (plus 3 Euros for handling).
(As a point of information, the peachy-type sections are designated for Canada in this one).
But …
If you go to this page, which in theory is where you buy tickets for an individual session (not the "Follow your Team" option), the selection is significantly bigger – especially in the "Canadian section".
On the plus side, it spells out exactly which sections belong to which nation.
And the price is 36 Euros. That's including the 20 per cent discount; the list price is 45 Euros.
You then realize than when you click on the "Follow your Team" option, you are actually purchasing tickets for both round-robin ties involving Canada. It's clear, and it's logical. But it's not THAT clear.
Another thing worth noting: wherever you see the cheapest option on those two smaller courts, it's not really an option. There are tickets at 20 Euros and 36 Euros. But the cheaper option is only for reduced-mobility seats.
So the "from 20 Euros" as advertised, is a bit of fake news.
Early attendance figures
The site has handy scales on the main page that indicate how many tickets are sold for that country. At least, we think that's what it is.
As an example, at 1pm EDT, it reported a 92 per cent "attendance rate" for the Netherlands. (That country will play on the smallest arena, Court 3).
Now – again, we can't tell which country's section is which.
Obviously, the higher-ranked team will change, depending on which one plays which one. For example, Italy has the "blue-green" section when it plays the Canada, and the "peachy" section when it meets the U.S.
Although there indeed do not seem to be many tickets remaining through this portal for either Dutch fans or Kazakh fans: 77 on the "peach" side, only nine on the "blue-green" side.
Except they've got the "attendance scale" for Kazakstan at 91 per cent, which is less than what they've got for the Netherlands. So yeah, math is hard.
But … if you click on the "individual tickets" area (it took some work to find it again), you see 521 tickets remaining on the Dutch (peach) side) for the Nov. 18 session against Kazakhstan. That's about half the available tickets. So, 50 per cent.
If you click there for the Nov. 20 day session against Great Britain (again, Netherlands are peach), you'll find 299 tickets remaining on the Dutch side.
Other notable notes
From what we were able to discern, there is little to no extra discount if you buy an entire seven-session package on Stadium 2 or Stadium 3. Literally pennies.
As well, individual countries have set up their own ticket-assistance pages on their websites. But the information varies greatly.
For example, if you click on Tennis Canada's page, it will bring you to the ticketing site.
But it only indicates three specific sections that are devoted to Canadian fans. Which obviously is not the case, as indicated above.
Tennis Canada also includes a promotional code so you can get that discount. But it seems not to be necessary as the event is advertising that discount generally, on every ticket.
Nowhere during the purchase process (we stopped just short of putting in the credit card), does it ask for a promotional code.
The British LTA's site is a little more specific on that: you can get the 20 per cent discount now. But if you buy later on, to get those 15 and 10 per cent discounts, you have to have the code.
But unlike Tennis Canada, which has the code right there on the page, the LTA requires you to join some sort of "team" (by last Sunday, so you're already out of luck). Or you have to opt in to get their emails and newsletters. All sorts of things.
The French Federation's page on this (not the easiest to find), advertises the 20 per cent discount until noon on Friday, no code required. And no mention of any other discounts down the line.
Tennis Australia's details are hard to find; you have to go to "News and Events", then "Pro Tournaments" and then click on Davis Cup. It has the starting time for the ties involving Australia wrong (by an hour). And it hasn't yet been updated; it still says "tickets available through Tennis Australia starting April 9. Details to follow".
The USTA's website has old stories about Davis Cup on the designated page. A search for "Davis Cup Finals" produces this. So, you're on your own. Maybe it's in the newsletter.
The Spanish Federation's site has the event right on its front page, no surprise. It mentions both the current 20 per cent discount, as well as a 15 per cent discount after this opening period. It gives the code: SPAINTENNIS.
One handy tickets tip
So we're going to guess that if you want to ensure that discount, wherever you come from, you can probably type in something like "USATENNIS" and get that break after this initial selling period.
(Especially if you're a British tennis fan who's not a "joiner" and/or doesn't want to get spammed with a bunch of promotional stuff)
Another aside: it's the first day, but it seems that all but a few of the very best sections in the main stadium remain completely available for host Spain vs. Russia Nov. 19, and Spain vs. Croatia on Nov. 20.
Dream package options
Here are the various ticket packages offered, beyond the "Follow your Country" deal.
One option they might well have included would be an "all day session" and "all evening session" package on the individual courts.
If you're a tennis fanatic traveling to the event with money to spend, but you also want to see Madrid, it would be a good time to see the city and then go to the tennis later on. Or, conversely, see the tennis during the day and go out partying at night.
But perhaps you could find a opposite-minded tennis friend and split a package.
(Note, the site is only available in English and Castellano)
Another thing to look out for: the day sessions begin at 11 a.m., while the night sessions begin at 6 p.m.
Luckily for them, they're going to truck out all of the tierra batida for the occasion, and replace the beautiful clay courts with hard courts.
It's not inconceivable that two three-set matches (even with tiebreaks) and a best-of-three set doubles match (with no match tiebreak) might well take more than seven hours on clay.
We don't know how much of a break they will allow between the singles – for people go to out and do their business and spend money at the concessions – and whether a player competing in the second singles will be allowed "suitable rest" before playing a potential deciding doubles.
I guess we'll see, no?
Hopefully this little guide is helpful for those of you thinking about making the trip.
It seems, at 36 Euros (40 US) for the pool tickets, the prices are very reasonable – if you live in Spain. If you're travelling there to take in the event, obviously that's a different ball game.
If there's one takeaway, it's that if you want better seats to both the ties involving the team you're supporting, buying the tickets individually for each session seems to be the better plan – at least on the smaller courts.
Good luck!