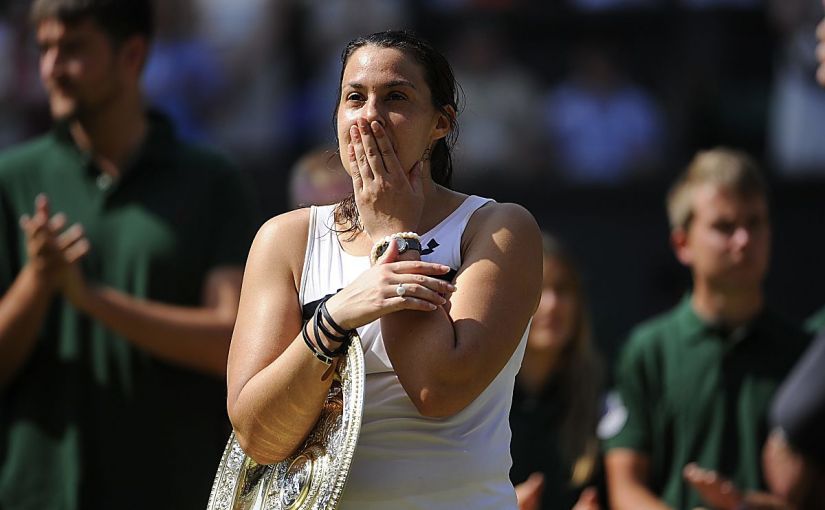 There are two major takeaways from Marion Bartoli's haunting, beautifully written memoir, "Renaître" (Reborn).
(It's in French only, published by Flammarion).
The first is that it's just more evidence of how incredibly difficult it is to make it in tennis. And of just how much sacrifice, hope and hard work is required from an entire family – with no guarantees.
The second is the realization of how little life a former player, at the age of 34, has lived.
For all but the last few years, it was all about tennis for Bartoli, who finally made her childhood dream a reality when she won Wimbledon at age 29.
A month later, she was out of the game. And when you see the toll the climb to the top took on her, you can completely understand why.
A tale in two parts
The story of the Frenchwoman's first 34 years is really two stories. Only two.
The first was the improbable climb to the top of the tennis mountain.
The second is how her first real boyfriend, at age 30, destroyed her life.
In Part I, we follow along on the ride from a tiny town in France's Haute Loire, to Wimbledon's famed Centre Court. (Part II on Wednesday)
The end, at the beginning
The story begins at the end, in a small, nondescript apartment on Draxmont St.
It's about a mile up the hill from the All-England Lawn Tennis Club, and right down the street from the house rented by Venus and Serena Williams.
It's the morning of the 2013 Wimbledon women's singles final, and Bartoli is alone. She runs some errands alone, eats alone, does her warmup exercises alone.
Her lifelong coach, father Walter, is no longer her coach.
Sabine Lisicki, ranked No. 15 in the world and the big favorite, is her opponent and is in the fancy locker room upstairs. Bartoli is in the "anonymous one, on the ground floor, for everyone else."
She talks to her father, even though he's not there.
"What if I lose?

"Papa, what if I lose?

"We both know there won't be any other chances."
Bartoli thinks she's in love. It turns out that often during her career, she would imagine a crush on someone, as if to conjure up someone to play for. Just the length of the tournament, a week or a fortnight.
Improbably, it's American Jack Sock. She's been crushing on him since the French Open.
"He'll never know, and I have no chance. He's going out with Sloane Stephens, whom I beat in the quarterfinals. I hope he saw me, that he found me pretty, strong, impressive."
Bartoli took a player gift from Eastbourne, a charm bracelet, and had two charms with the initials "J" and "S" added to it.
She's up in the match, and suddenly Lisicki shakes off her nerves a little and mounts a charge.
Bartoli urges herself across the finish line. So many times in her life, her dreams have been crushed by stress. She wants to change that narrative – finally. She's tired of being second best. And she makes it.
As she goes to collect her AELTC lifetime member's badge, Bartoli is walking in a bloody sock; one of the blisters on her foot exploded.
She puts the charm bracelet back on. If they ask her in press, she'll say "J" is for "Joy", and "S" is for "Serenity".
But what might be a beginning for many players is, in fact, nearly the end for Bartoli.
And so, she rewinds her story back to the beginning.
Modest beginnings in Retournac
If you don't know a lot about Bartoli's history, you probably assumed that because her father and coach, Walter, was a physician that they came from comfortable circumstances.
It was just the opposite. The Bartoli family had just moved to the town of Retournac because it was the cheapest place her father could find to set up his medical practice.
From an early age, Bartoli always felt self-imposed pressure not to be a burden, to excel, to shine. To somehow bring some light into a home that often felt so dark. She wanted her parents to be confident she could manage things on her own.
"I know I have to succeed. I don't know in what yet, but I must."
Retournac, a town of fewer than 2,500 then (and barely more than that now), was a unique little town back in the 1980s. There was a community of addicts who came from all over Europe to get clean There was a large HIV-positive and AIDS population, right at the dawn of antiviral drugs. Some of them played tennis.
Finally, they were able to get a small house. It was 150 meters away from the tennis courts.
Winter, summer, whenever and however
She played her first tournament at six, when they needed a fourth to make a draw. After that, through those winter months in the snow, wind and rain. armed with a Wilson Rak Attack, grey pants and a Tintin T-shirt, she played.
"I have no physical strength, but I have the mental strength. I'm not fast, but I have the fight."
A rare trip to Lyon in 1991 to watch 31-year-old Yannick Noah lead France to the Davis Cup. That's when Bartoli knew what she wanted to do.
Steffi Graf and Monica Seles play the French Open final. The next day, Bartoli started playing with two hands on both sides. That's when she knew how she wanted to play.
The year after that, she watched on television as her idol Pete Sampras won Wimbledon. That's when she knew where she wanted to win.
How many kids say that? But she got there.
A community project
Bartoli took to the local "Boulodrome", where locals played pétanque (bocce) indoors in the winter. The flooring was tar covered with sand. The powers-that-be allowed them to clear the sand away from part of the floor, with the bocce on the side, and a court in the middle. There were holes in the ceiling, sleet on the ground, potholes everywhere. There was no place to back up behind the makeshift court because of a climbing wall. Standing on the baseline, her racket would touch the wall on the take back.
Those limitations would mold her game.
(The Boulodrome is still there, a little the worse for wear. It's used during the week for school gym classes as a project to build a town gym is in its third decade of … planning. That's the kind of town it is).
My savings for a ball machine
At eight, Bartoli is already beating her father, so he invests what he had into a ball machine: 15,000 (pre-Euro) French francs. (That's about $2,700 US at the time – the equivalent of about $5,000 today. In other words, a fortune).
She plays a 10-and-under tournament. Vomits on the way there. Vomits on the way home. She wins.
Father Walter's custom-designed vision of Bartoli's game begins to develop.
"Tennis is always harder for me than school. If I am to succeed, it can only be with Walter Bartoli … With Papa, we're learning tennis together. We're growing up together as we go along. He watches the other players. The boys, too. Anything that can be useful to me. He buys tennis books, all the tennis magazines, VHS tapes of the Grand Slam tournaments. And he spends his nights studying those videos. He stays up for the Australian Open.

"Home, working on everything, repeat, repeat. Go to Lyon and play a tournament two weeks later, against the same girls. Come home. Do the same. Back and forth incessantly – until I've beaten them all."
Les Petits As, and Safina
The unlikely father-daughter team heads to Tarbes for the prestigious Les Petits As competition. Bartoli loses first round, but they stick around. Her father wants to study.
Dinara Safina, a year and half younger, is the hotshot. In France, it's Virginie Razzano, a year older. Walter asks Razzano and another girl trained by the French Federation to practice. They refuse. It's every girl for herself.
Safina and her mother, Rauza Islanova, have no such issues. Walter grills the mother of Dinara and Marat. He tries to extract every bit of knowledge he can even though they can barely communicate. If Bartoli knows literally three words of English, Papa knows … two. But he promises her that in three or four years, he'll get her to the same level as those girls.
A young outsider
By 14, Bartoli is getting so good that everyone is starting to understand that without her father, it's a no-go. No one is treating them like a freak show any more.
But it's decision time: School or tennis? If she carries on, her father can no longer travel with her and keep his job. Over her life, he somehow has put 300,000 francs (about $50,000) aside. He calculates they have three years to make the top 100. Not a day more.
"It's 300,000 francs of presents not bought, vacations not taken, home improvements cancelled. From one day to the next, we have no income. Mama stays at home alone and takes care of children. Nothing will be the same.
"I will no longer come home at night, Mama. I will disappear for months at a time. I'm taking your husband away from you. I'm preventing you from watching me grow up. You will no longer be there in my good moments, or in my bad ones. I'm making my life with tennis and Papa. We're abandoning you here with your nostalgia, and the photos of me in the stroller.
"I love you so much, even if it feels like I'm choosing everything BUT you. To choose you, means to give up my life. Do you understand?
The "structures" of the French Federation
The French Federation takes on the cost of the Bartolis' accommodation and meals on tournament trips. They're left with the flights.
And then … those strict, inflexible French federation "structures" kick in. They'll pay her meals, but not her father's, because he's not "certified" with the FFT.
They head to Miami for the Orange Bowl 16s, where Bartoli crushes the No. 1 American Melissa Middleton. And she notices that the boyfriend of the No. 2 (Ashley Harkleroad) is watching her.
His name is Andy Roddick.
She meets Maria Sharapova, then 13.
Elegant, a diva, a princess
"All eyes are on the Russian. She is elegant, diva, a princess. Everyone is there for her: her father who's coaching her, her agent, her racket sponsor, her clothing sponsor, a coach from the Bollettieri Academy, the agents of the other girls who would do anything to get her."
They meet in the third round.
"My skirt is wrinkled, my bag is all stretched out of shape, my tennis is different, instinctive, explosive – messy. I beat her 6-2, 6-1."
Sharapova's rather Yuri approaches them, and tells them her game is "interesting". He wants her to train with his daughter.
American agents stuff Walter's pockets with their business cards. And then, Patrick Mouratoglou approaches (you didn't think he existed before Serena, right?)
Bartoli wins it. And then she signs with Mouratoglou.
US Open junior champion
Beyond Sharapova, the level of the juniors who played during Bartoli's time is impressive.
Jelena Jankovic. Svetlana Kuznetsova, Vera Zvonareva.
Kaia Kanepi (the 2000 junior French Open champion) was No. 1 and had beaten Sharapova and Safina at this 2001 US Open.
Bartoli beats her 7-6 in the third set in the quarters, then Harkleroad. She's into the final against Kuznetsova in New York.
And she wins that, too.
Next up on the stadium court? The men's singles final between Lleyton Hewitt and … her idol.
"Sampras is right in front of me. In real life. We're on the same court. We're part of the same thing. His world is mine. 'Pete, you know, you know you're my god, my idol. I worship your style, your attitude, your trips to the net, your record. You do everything I don't know how to do. You are a genius where I am a modest plodder without any talent.' "
Bartoli jabbers two words. But he's already focused on his final.
"He will never remember me. And I will never forget that moment."
A winter in Paris
Bartoli moves to the national training centre in Paris. Another Christmas without her mother.
But again, because of those "structures", the federation won't pay for room and board. Father and daughter take up residence in a one-star hovel near Roland Garros.
Once again, it quickly becomes apparent that what works for most players just doesn't work for Bartoli.
Under the FFT's direction, they do a lot of weight work to help her gain a little power.
But instead, she gets even slower. Walter doesn't realize this until it's too late. Bartoli wasn't playing real matches, so the effects didn't show. That "professional" advice goes into the trash.
"The journalists are mocking us, speaking badly of us without knowing our truth, our system. I work harder than the others because at my core, I'm not made for this. I have no talent, no "ability", I'm a stiff gymnast, a downhill skier with vertigo."
They gave themselves three years to make the top 100 in the WTA rankings.
They made it in two.
The "unwelcome mat" of Fed Cup
Every year they call. Every year, Bartoli says she'll play Fed Cup if she can bring her father. It's a five-minute conversation – regardless of who's captain. And it's always no.
They just don't get it. From their lofty perch, they condescendingly tell her that what they're been doing so far is great. But now, they need to call upon the "experts". No more fooling around with this "do-it-yourself" business.
They don't understand – won't understand – that Bartoli is an outlier. And only her father has the patience to figure out ways around her weaknesses. She fails all of the tests and indicators for high-level athletes. The classic coaching textbook won't work. If they had discovered her, she would have been booted out of the program long ago. They never would have figured out a way around her lack of foot speed.
"Sometimes I feel the tennis world laughing, even if my back is turned, and I isolate myself in my bubble. I feel your meanness, the judgment. I remember everything. I'm not fast, but have a hard drive for a memory. Everything is etched, archived for my vengeance."
Cold shoulder from Sharapova
"They admire me for my fighting spirit, my will, but I don't make the crowds crazy. They don't chase me for my autograph. I'm not like Maria Sharapova."
Bartoli's childhood friend and training partner has become a huge star. And little Marion Bartoli is now vapor.
"The other day at the tournament in Beijng, she was the Spice Girls all by herself. The fans were pushing each other and yelling, 'I love you Maria!!!" She was signing big yellow balls without giving them even the slightest look. And the more icy and condescending she was, the bigger the madness grew around her.
"She doesn't say hi to me any more, either. We arrived on the circuit together at the Orange Bowl. We were friends back then. I was 15, she was playing three years up. And then, from one day to the next, after her first Australian Open wild card, she never spoke to me again. Maria flew to the top of the rankings, and I became transparent. Invisible. Useless."
The tearful end
But back to the end.
After the Wimbledon triumph, Bartoli's body falls apart. The Achilles is barking. The right shoulder. But she figures they've held up this long, they'll last a couple more years.
Her first tournament back after holding up the Venus Rosewater Dish is the Rogers Cup in Toronto. She wins her first-round match against Lauren Davis 6-0, 6-3 in 45 minutes. But she's in pain. Against Magdalena Rybarikova, she loses in the first set in tiebreak, and soon retires.
But she trudges on to Cincinnati, and loses her first match 3-6, 6-4, 6-1 to Simona Halep.
She calls her father.
"I have to stop. Papa. Tell me you understand."
"It's your decision. It's your life. You know yourself by heart. Stop, honey."
Bartoli is relieved. Her body has become nothing but "cramps, tears, inflammation and tendonitis." All those years, she had trained so much harder than all the other girls to compensate for her physical shortcomings. And she hit the wall.
"It was our pact. Wimbledon or death. Shame forever, or Wimbledon.
"The biggest failure of my life – or the accomplishment of the to-do list I made when I was eight years old.
"I wanted that Grand Slam so much. My body wouldn't let go, as long as I hadn't won it."