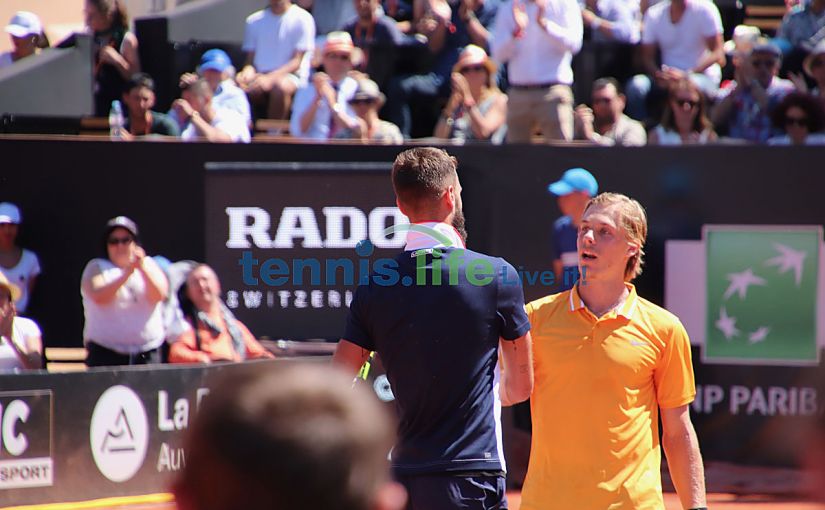 LYON – Benoit Paire said that he'd tried "eight or nine" times to play the week before the French Open, but had never managed to win a match.
The Frenchman, who turned 30 two weeks ago, was exaggerating only a little. This looks like his sixth try, between the tournament in Nice and this new one in Lyon, which is in its third incarnation.
But he's having a run. The unseeded Pair was a few points from elimination in the first round against American Mackenzie McDonald.
He beat Pablo Cuevas with surprisingly little difficulty, And then, against Denis Shapovalov in the quarterfinals Thursday, he was down 0-3 in the third-set tiebreak before pulling off another solid win, 6-3, 4-6, 7-6 (4).
The win over Shapovalov (at No. 23) is the best win, by ranking, for Paire since he defeated Diego Schwartzman a year ago in Rome.
Here's what it looked like.
Paire vs. Fritz – two in-form players
In Saturday's semis, Paire will meet young American Taylor Fritz, who has been on the clay-court circuit since the very first week and can move into the top 40, and to a career high, if he can defeat Paire.
Paire said he'd have to pull out the drop shot, and make Fritz do what he "doesn't like to do" – move.
The two have played twice. Fritz won on hard court at Indian Wells – almost Fritz's home turf. Paire beat him on grass last year in Stuttgart.
For Fritz, the decision to play a full-out clay-court season wasn't a tough one. He told Tennis.Life that he's a player who likes to play. And he couldn't imagine just taking a two-month break in the heart of the season.
Lyon is his 14th event of 2019. He qualified in both Rome and Madrid and has posted some impressive wins. More crucially, given he might have a dozen more European clay-court seasons ahead of him, he's setting down some building blocks to make the most of this part of the season going forward.