,
After Open Court broke the story in February that Canadian Grant Connell, a former world No. 1 in doubles on the ATP Tour (and top-70 in singles) had suffered a major stroke at age 54, the news went around the tennis world in a flash.
Connell was, and remains, an extremely popular figure not only in the tennis world, but also in Vancouver, where he's one of the top real-estate brokers.
He kept those outside his close circle updated with some videos on Instagram, and did an interview back in March for a B.C. newspaper (with his sense of humour intact despite major physical struggles).
On Thursday night, he spoke for the first time publicly on TSN 1040 in Vancouver.
Connell talked to Tom Mayenknecht, on his nationally-syndicated show "The Sports Market". Mayenknecht and Connell go back some 35 years; to when Connell was a young player and Mayenknecht joined Tennis Canada as its first-ever director of communications.
Connell remains at the G.F. Strong rehabilitation centre in Vancouver. The lefty's voice sounded quite clear, if not quite normal as he discussed the surreal journey of doing rehab during a pandemic, how and why the stroke happened – check your blood pressure, folks – and how the outpouring of love and support from his many friends helped him get through.
Here are some quotes from their conversation.
"It's going pretty slowly. But I can tell you it's quite surreal. My wife comes in every morning, and comes back at nighttime and tells me what's going on. But I haven't set foot in the real world since Feb. 19. I try not to watch too much of the news, because there's so much sadness in here, and you turn on the news and it's carnage. I feel like I've completely missed it.
"I feel great, but really grateful to have the opportunity to get better. When I had the stroke I was basically paralyzed on the left side, so I'm re-learning how to walk. My hand isn't responding quite as well as my legs, but I can walk, gingerly. I kind of look like a zombie who's had too much to drink. But I am getting better.
"I wake up every morning like I want to tell my mother I don't want to go to tennis training, because it's so hard. I dream about tennis like when I was playing on tour. It's hard, but it's the right place to be.
"I was kind of a bit naive about it when it happened, I assumed I would be able to unwind and walk. Bu it's taken everything I have … I just got onto a walking stick a few days ago to do some walking by myself, but I always have the wheelchair pretty close to me.
"It wracks up your brain pretty bad. I had a brain bleed – a lot of blood on my brain, and I'm really lucky to be alive. Being given this opportunity to heal is really a bonus.
"I'm just the recipient of so much love and well wishes, I'd be a fool if I didn't give it 110 per cent. I put us through the wringer with this one. I was reckless. I had high blood pressure for 20 years, was on and off medication, I flirted with fire and got burned. I learned a lot.
"It's called the silent killer for a reason; you don't know if you have it or not. So if it's as simple as going to Shopper's Drug Mart and putting your arm in that cuff, do it.
Short run turns into fight for life
"There is some humour to it as well. I basically got on a scale, saw 223 pounds, I had a "Tough Mudder" coming up. So I thought I'd get in shape.
"I went on a short little run, and I started falling down and couldn't hold my phone. I heard a passerby say, 'Does this guy does need help?' I had enough strength to ask the guy to call 911. I'm lying on my back about to lose consciousness, and I heard the ambulance. I thought, 'I've got a chance now.' That's about all I remember for the next couple of days.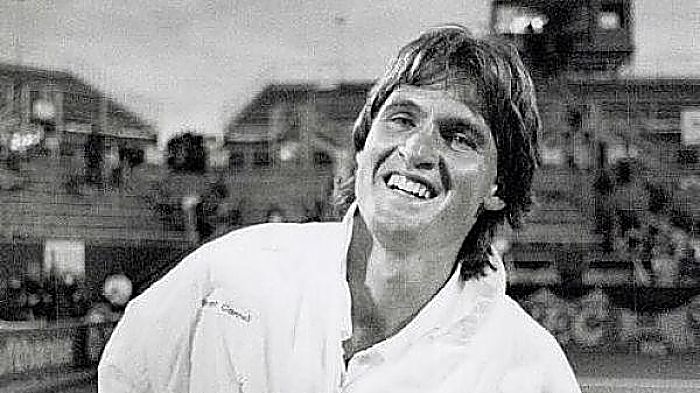 Sense of humour intact
"I was just most amazed, that so many thought my left hand was useless – and I'm a lefty – how many people wanted to play me all of a sudden. There were 10 people lined up for challenge matches. Can't blame 'em, it's a great opportunity for them.
"I put my family through hell. So that was my motivating factor to get healthy and get well.
"All the outpouring of support really got me through. It really did. It sounds like a cliché. Every morning I love looking at my Facebook or Instagram, people coming to visit and dropping notes, it all meant so much to me. I was pretty down, but it picked me up."