.
The return of the WTA Tour has led to plenty of questions along the lines of, "So, what did you do on your summer vacation?"
Many took a break. Then most practiced and quarantined and waited for tennis to begin again.
But Coco Gauff, all of 16, did all that – and also found her voice as a young Black American fighting for justice.
And as she plays her first competitive matches this week in Lexington, Kentucky this week at the Top Seed Open, there will be no way to put that aside. Kentucky is the home of Breanna Taylor, the 26-year-old emergency medical technician who was fatally shot in her home by three offers from the Louisville Police Department back on March 13.
As we approach the five-month anniversary of that tragic day, the police officers have yet to face the consequences of their actions.
And Gauff, who plays a qualifier in the first round of singles and also is teaming up with pal Caty McNally for doubles, will undoubtedly be asked about it regularly.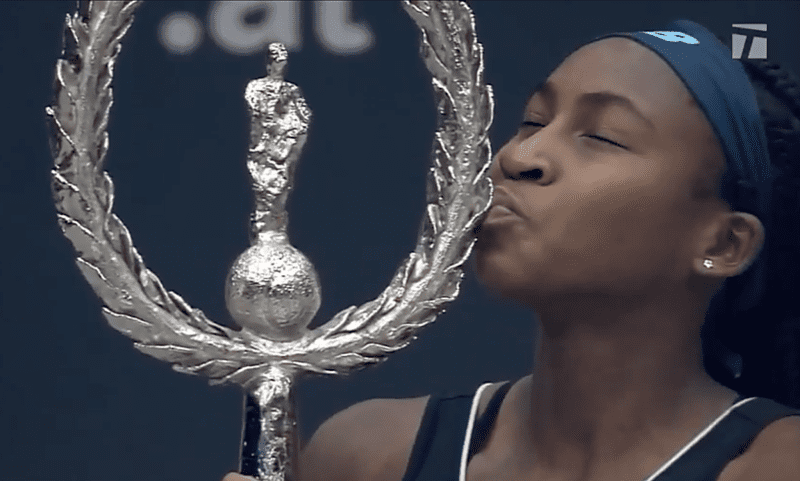 No worries – she's on it.
"As always, I will stay active on social media. She deserves justice. And I think the biggest thing is that we say her name and continue pushing for justice. I've been emailing (the Louisville Police Department). I don't know if they're receiving my emails or not. Demanding justice. Signing petitions," Gauff said Sunday on a Zoom conference call.
"I guess the biggest thing for anyone who will see this eventually is just to continue talking about it. I think we just continue to demand justice for her, and continue to peacefully protest, and hopefully we can see some change."
Amid a pandemic, a voice is found
Even at her tender age, Gauff has shown a willingness – an eagerness, really – to put it on the line, to use her ever-increasing platform to do good. But she probably came to the forefront in a big way when she spoke at a Black Lives Matter rally in Florida in early June.
It wasn't planned, Gauff said.
"When I went to the peaceful protest I wasn't initially supposed to do a speech. They asked me maybe two minutes before to do so. Why I felt calm was because of my grandmother. … I learned a lot about her stories over the years, so I felt that kind of prepared me for that moment," she said.
"I also felt responsible because I have a big platform. It would be wrong for me to stay silent when this is obviously an issue going on. So I felt the need to use my platform to spread awareness about the topic and educate people about it."
Gauff's maternal grandmother Yvonne Odom, whom she said was the first Black kid to integrate Seacrest High School in Delray Beach, Fla. back in the early 1970s, spoke first.
"I was talking off the cuff. I was very nervous. In the video you can't see there was quite a few people there. My grandmother went before me, and she's really good at those types of things. So I had to follow up after her, which was really tough," Gauff said. "It was definitely from the heart. And when you speak from the heart, you get the message that you want."
Finding the words
Gauff is speaking now, she said, because while the murder of George Floyd in Minneapolis opened up a lot of peoples' eyes, her eyes have always been open. Her parents have always talked to her about it.
The extra free time she had to educate herself further made her more confident.
"I was finally able to be able to put it into words – because talking about an issue like this you have to be very educated on the topic, to make sure you don't say the wrong words," she said. "That was when I was ready to actually speak out it, because I actually knew a lot about it."
Gauff said her family, fans – and especially, as she builds her career, her increasing number of sponsors – have been supportive.
"The reception has been really good, from followers and people in general, the public have been very kind. And I think a lot of people were really motivated by my speech. Same with New Balance, Barilla, Rolex, Microsoft – I'm trying to think – Head, all my sponsors," she said.
"Immediately after they saw the video they all messaged me and reached out to me. They told me how proud they were of me. They also reached out and asked what they can do to help me. And that's what I thought proved a lot of them, as brands."
A new and improved player
On the court, Gauff said she used the time to short up some areas of her game. She worked on being more aggressive and moving forward, on her returns and on her second serve.
What she did not do, however, was take advantage of some of the competitive exhibition events in the U.S. Gauff did not play the Charleston invitational; nor did she compete in World Team Tennis.
But the lengthy break wasn't hugely out of her comfort zone. The age–eligibility restrictions have meant that Gauff has played rather sparingly on the WTA Tour so far. A year older now, she could have added a few more tournaments – had this been a normal year.
"I consider myself still in the development stage. So having those months off to work on certain stuff definitely helped. Plus I got to be home, be with my brothers and my family," she said. "That was probably the longest I've been home in a long time. I'm excited to get back competing. I definitely missed being on the court."
Can she multitask?
If having all that extra time during the shutdown was a catalyst for her emerging voice, it will be interesting to see how she balances that activism with the return to her full-time job, and all of the increasing pressure that comes with that because of her early results and all the hype that has surrounded her as a young phenom.
There is a lot on her broad shoulders – the pressure of being the primary breadwinner in her family, the hope for the future for the agency that represents her, Team 8 – not to mention that roster of sponsors, all of whom require individual attention.
You can already see the scenario: if she struggles to win matches, the adults in her life may well tell her to narrow her focus strictly on the tennis and less on the off-court issues that matter to her, but use up emotional energy.
And then there is the rest of the field.
If she snuck up on players at 15 – and if many of the older opponents she faced froze a little at the mere prospect of losing to someone so young – that novelty will wear off. And opposing coaches will have had even more time to scout her and pick up on the more vulnerable areas of her game.
Girls just want to have fun
Gauff spoke Sunday of coming back to competition with the mindset of trying to enjoy herself. There were certainly moments on court over the last six months where that did not appear to be the case – at all. The pressure was showing.
In April, an honest post on the Behind the Racquet website spoke of those struggles, and about how she had felt depressed for the period of about a year.
Her parents, Corey and Candi, poo-poohed the notion that it was anything much more than teenage angst in a follow-up story in the New York Times.
And, of course, there's the matter of merely being 16, going on 17. That's a challenge for anyone – never mind a prodigious talent with a bright spotlight shined upon her.
We've all seen this story before, with young prodigies and all the attention, pressure and responsibilities heaped on them before they're even old enough to drive. So this next stage of her career, you hope all of that fades a little bit. You hope she can be a little more carefree as she builds what should be a long and fruitful career.
"I think my goal is for the rest of the year is to have fun competing again, to really enjoy competing. Because I think when I'm not so worried about results or ranking I think that's when I play my best tennis," she said. "The whole training block has been just to continue to improve. And when it's time for me to get to get the chance to play, just to have fun on the court.
"I guess we'll see next week when the tournament starts how this goes."
About Post Author