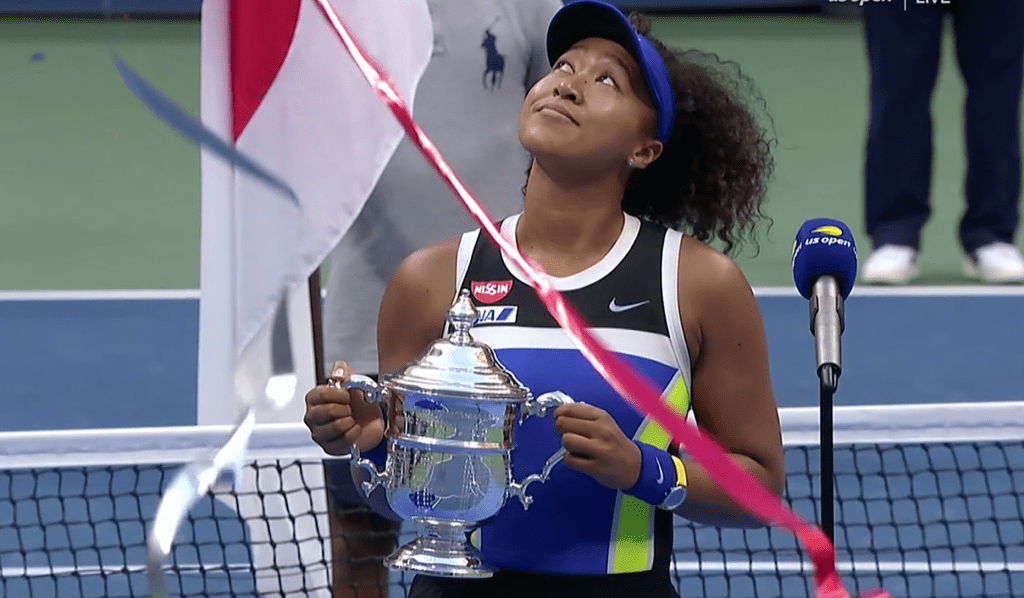 .
The rankings picture after a Grand Slam typically always features a lot of shifting around of the chess pieces.
This year, of course, with the special rankings allowances because of the pandemic, it's a bit of a mixed bag.
Bianca Andreescu, who hasn't played all season and obviously did not defend her 2,000 points from the 2019 US Open … didn't have to.
She drops a spot because of Naomi Osaka winning the title, But she still stands in there at No. 7.
Meanwhile, Ashleigh Barty missed the US Open, and will also miss defending her title at the French Open. But she remains more than 2,400 points ahead of Simona Halep at No. 2.
A year from now – hopefully, we'll see all this fall into place. But for now, it is what it is.
There were some big moves, though.
ON THE UPSWING
Naomi Osaka (JPN): No. 9 ===============> No. 3 (The 22-year-old from Japan is back in the area she belongs, jumping up six spots to sit at No. 3 despite having fewer tournaments on her rankings chart than any top-10 players except for Serena Williams and the injured Andreescu).
Victoria Azarenka (BLR): No. 27===============> No. 13 (The US Open finalist had already made a big leap by winning the "Cincinnati" tournament. Now, she's into the top 15 and looking for more as she jetted to Rome on Sunday)
Jennifer Brady (USA): No. 41 ===============> No. 25 (The 25-year-old American matches her age with her ranking, as her US Open semifinal propels her to a new high).
Sloane Stephens (USA): No. 39 ===============> No. 33 (The American's third-round effort in New York assures her of a seed at the French Open, where she reached the final in 2018. Better that, then being a dangerous floater for someone).
Shelby Rogers (USA): No. 93 ===============> No. 55 (Rogers was outside the top 100 when she returned to play in Lexington. How much easier will her life be after a great run on the U.S. hard courts).
Patricia Maria Tig (ROU): No. 88 ===============> No. 58 (A topsy-turvy, nervy final against Genie Bouchard in Istanbul Sunday left her holding the trophy, and moves the 26-year-old to a career-high ranking).
Leylah Fernandez (CAN): No. 104 ===============> No. 98 (As she turns 18, the Canadian breaks into the top 100 for the first time. Nice birthday present).
Marta Kostyuk (UKR): No. 137 ===============> No. 119 (The 18-year-old from Ukraine, who looked headed straight to the top echelons at 15, has been waylaid by injuries. But she's now just three spots away from her career best, reached after last year's Australian Open).
Tsvetana Pironkova (BUL): No. —– ===============> No. 156 (Just with her US Open result, the 33-year-old went from … no ranking to No. 156. Her current protected ranking stands at No. 123, and will get her into the French Open qualifying).
Genie Bouchard (CAN): No. 272 ===============> No. 167 (Going from the qualifying to the final in Istanbul gave Bouchard a much-needed boost to her ranking – but it comes too late to get into the French Open qualifying).
Kateryna Bondarenko (UKR): No. 349 ===============> No. 284 (Playing on a protected mom's ranking of No. 65, Bondarenko gives her real ranking a boost).
Katrina Scott (USA): No. 637 ===============> No. 442 (Winning a round at the US Open was worth a big leap for the 16-year-old American, who got a wild card).
ON THE DOWNSWING
Donna Vekic (CRO): No. 24 ===============> No. 28 (The Croat didn't do anything terribly wrong, but she drops as the result of others, like Brady and Azarenka, rising).
Dayana Yastremska (UKR): No. 25 ===============> No. 29 (Yastremska, who dumped coach Sascha Bajin after the US Open, drops for the same reason Vekic does).
(Screenshots from WTATV and TSN/ESPN)
(Editor's note: If you got down this far, it's because you're a big fan of Open Court. Please do us a favour and disable your ad blocker when you read the posts, and click on a few ads. It costs nothing. And every little bit will help the site to keep bringing you the latest news, stories and scoops you won't find anywhere else. Thanks!)
About Post Author