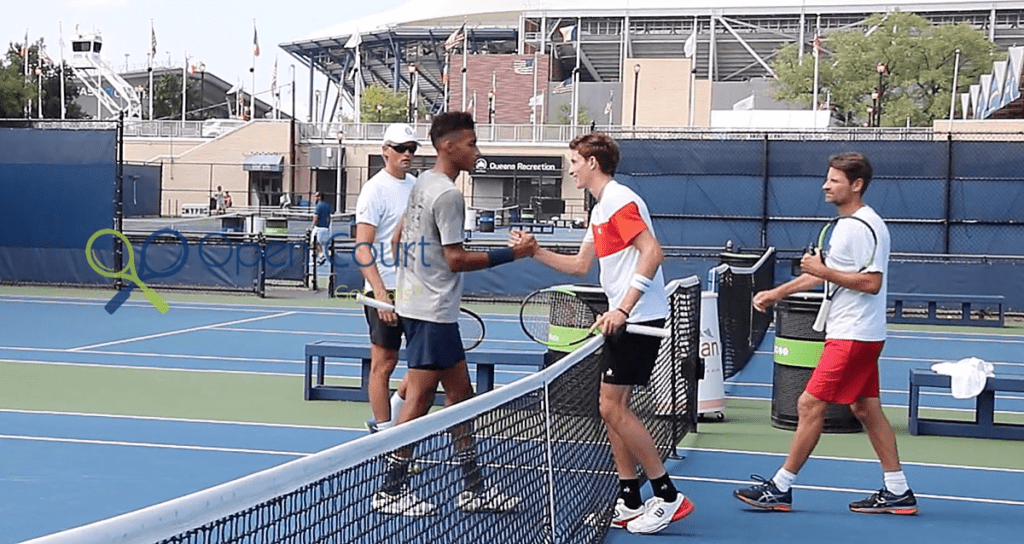 .
Two years on, Canadian Félix Auger-Aliassime and France's Ugo Humbert are making the weekend at ATP Tour events.
But back at the 2018 US Open, they were aspiring qualifiers who were relegated to about as far away from Arthur Ashe Stadium as you can get.
Way out in Corona Park – a long treak outside the gates – 18-year-old Auger-Aliassime and 20-year-old Ugo Humbert practiced on a windy afternoon ahead of their US Open main-draw debuts.
Here's what it looked like.
Auger-Aliassime, then ranked No. 117, had beaten Tallon Griekspoor, Chris Eubanks and Gerald Melzer to get through qualifying.
Humbert, then ranked No. 139, got past Pedja Krstin, Brandon Nakashima and Marc Polmans.
Humbert got the better draw; he beat American wild card Collin Altamirano in straight sets in the first round, then lost to Stan Wawrinka in four sets in the second round.
Auger-Aliassime had the misfortune of drawing his good pal Denis Shapovalov – and then fell victim to the heart issue he was dealing with early in his career and had to retire.
Making the weekend in 2020
Last week in Cologne, Auger-Aliassime reached the final, losing to No. 1 seed Alexander Zverev.
This week, in the same location, he had another good week. The Canadian fought hard through a couple of tough early rounds, but was edged out by No. 2 seed Diego Schwartzman in the semifinals.
Meanwhile, Humbert won the title in Antwerp, 6-1, 7-6 (4) over Alex de Minaur in Sunday's final.
On Monday, Auger-Aliassime will be ranked No. 21 in the world.
Humbert will be at a career-high No. 32.
To each his own path
That 2018 US Open was Auger-Aliassime's second qualifying attempt while it was the first for Humbert, despite being two years older.
Antwerp was Humbert's second career title – both this year. He opened the season by winning his first in Auckland. He has made two finals – and won them both.
On the other side of the ledger, Auger-Aliassime, though younger, has already made six finals but has yet to take that next step.
Humbert faced Benoit Paire and Alex de Minaur in his two finals.
Auger-Aliassime has faced Zverev, Stefanos Tsitsipas and Gaël Monfils in his three finals this season – all top 10 players.
Everyone has their own path.
It's a process. But you can see the progression from year to year as Humbert has filled out physically and solidified his game, and Auger-Aliassime has gotten over some hurdles, battled some of his strokes and increased in confidence.
About Post Author