.
This will be the final WTA Tour rankings update for 2020. There aren't any more WTA Tour events, and barely any ITF tournaments beyond the rock-bottom prize-money level.
And so, Linz champion Aryna Sabalenka can proudly say she'll finish the year in the top 10. Which will probably trigger some interesting bonus clauses in her sponsorship deals.
Sabalenka, who beat doubles partner Elise Mertens 7-5, 6-2 in the Linz final, clinched that spot by making it to the final.
Mertens also moves up a key spot – to No. 20 – which means she'll finish there for 2020.
The Sabalenka move drops Serena Williams, who hasn't played since the US Open, to No. 11 to end the season.
Rankings stagnant with pandemic rules
As a comparison Belinda Bencic, who has played one match since Qatar in February (a 6-3, 6-1 loss to Danka Kovinic in Rome), remains at No. 12. That's how the special pandemic rankings work.
Ashleigh Barty remains in the No. 1 spot by nearly 1,500 points, despite not having played since the stoppage.
Bianca Andreescu remains at No. 7 – despite not having played for over a year.
ON THE UPSWING
Aryna Sabalenka (BLR): No. 11 ==========> No. 10
Elise Mertens (BEL): No. 21 ==========> No. 20
Nadia Podoroska (ARG): No. 48 ==========> No. 47
Barbora Krejcikova (CZE): No. 74 ==========> No. 65 (The 24-year-old Czech, previously known as a doubles specialist, put out a big effort in the last year to up her singles game. And it's been successful. She was at No. 131 to start the season and cut her ranking almost in half, ending at a career high).
Océane Dodin (FRA): No. 115 ==========> No. 107 (The Frenchwoman, who has been on and off the tour in recent years suffering from vertigo, ended 2020 strongly. Dodin won a $25,000 ITF in Reims last month, and went from the qualifying to the quarters in Linz last week, retiring in the middle of the second set against Sabalenka).
Stefanie Voegele (SUI): No. 124 ==========> No. 116
Vera Zvonareva (RUS): No. 173 ==========> No. 163 (Zvonareva is slowly chipping away at her ranking. She also made the semifinals in Linz with Gabriela Dabrowski).
Jana Fett (CRO): No. 236 ==========> No. 209
ON THE DOWNSWING
Coco Gauff (USA): No. 47 ==========> No. 48 (Gauff drops a spot because Podoroska added some points. But in normal times, the 2019 Linz champion, who won her first career WTA event out of the qualifying, would drop 280 points and about 15 spots in the rankings. It had to make it a lot easier to not try to defend her title).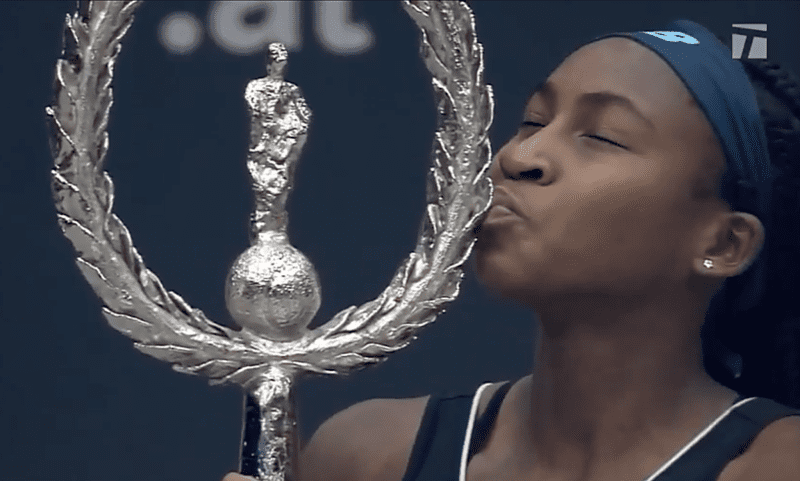 CANADIAN CORNER
Not much great news to report here.