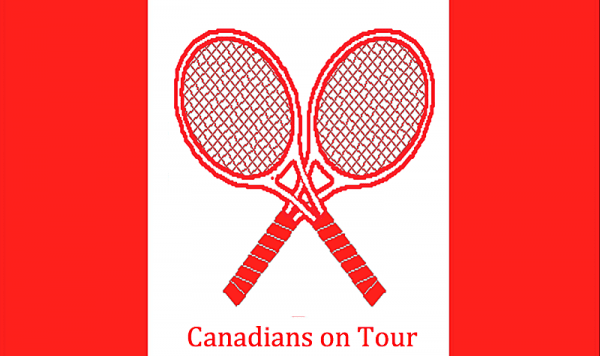 .
There was supposed to be a big Canadian contingent at the ATP 500 in Rotterdam this week.
But both Milos Raonic and Denis Shapovalov withdrew, so it will be left to Félix Auger-Aliassime to carry the flag.
Pospisil earned 240 points on the Montpellier-Rotterdam-Marseille circuit a year ago (including a final in Montpellier). This year, he will try the Doha-Dubai double, even if it's outdoors. He doesn't have to defend those points, as they are being rolled over to 2022. This way, he can add to his total by playing different tournaments.
Meanwhile, Genie Bouchard got a late wild card into the main draw in Lyon. She also has one for the WTA 250 in Guadalajara the week after. They will be the 44th and 45th wild cards of her career.
Bouchard has played just two matches since last October – at the Australian Open qualifying in Doha in January.
ABN AMRO World Tennis Tournament
Rotterdam, Netherlands (ATP 500)
Singles
[7] Félix Auger-Aliassime
1st rd: lost to Kei Nishikori (JPN) 76 (4) 61
Doubles
Félix Auger-Aliassime / Hubert Hurkacz (POL)
1st rd: lost to Pierre-Hugues Herbert (FRA) / Jan-Lennard Struff (GER) 67 (5) 63 [10-8[
sXXXssss
Open 6e Sens Métropole de Lyon


Lyon, France (WTA 250)
Singles
[WC] Genie Bouchard
1st rd: lost to Aliaksandra Sasnovich (BLR) 76 (7) 62
Doubles
Genie Bouchard

/ Olga Danilovic (SRB)
1st rd: def. [3] Kaitlyn Christian / Sabrina Santamaria (USA) 63 64
QF: def. Alexandra Panova (RUS) / Rosalie Van der Hoek (NED) 26 64 [12-10]
SF: def. [2] Renata Voracova (CZE) / Makoto Ninomiya (JPN) 67 (9) 62 [10-8]
F: vs. [1] Viktoria Kuzmova (SVK) / Arantxa Rus (NED) 36 75 [10-7]
sXXXssss
Qatar Total Open


Doha, Qatar (WTA 500)
Doubles
[4] Gabriela Dabrowski / Anna Blinkova (RUS)
1st rd: def Lucie Hradecka / Kristyna Pliskova (CZE) 57 64 [11-9]
QF: lost to Andreja Klepac (SLO) / Sania Mirza (IND) 62 60
sXXXssss
Gran Canaria Challenger 2
Gran Canaria, Canary Islands (ATP Challenger)
Singles
Steven Diez
1st rd: def Nicola Kuhn (ESP) 62 62
2nd rd: lost to [8] Kimmer Coppejans (BEL) 26 60 75
Doubles
Steven Diez / Roberto Ortega-Olmedo (ESP)
1st rd: lost to [2] Fernando Romboli (BRA) / Karol Drzewiecki (POL) WALKOVER
sssss
Forte Challenger 125
Nur-Sultan, Kazakhstan (ATP Challenger)
Singles
Brayden Schnur
1st rd: lost to Mackenzie McDonald (USA) 63 46 64
Peter Polansky
1st rd: def [LL] Ulises Blanch (USA) 76 (2) 43 retd
2nd rd: lost to [1] Soonwoo Kwon (KOR) 76 (7) 64
Doubles
[4] Peter Polansky / Brayden Schnur
1st rd: def [WC] Sergey Fomin (UZB) / Dostanbek Tashbulatov (KAZ) 62 76 (2)
QF: def. Grigoriy Lomakin (KAZ) / Vladyslav Manafov (UKR) 63 62
SF: lost to [1] Nathaniel Lammons / Jackson Withrow (USA) 00 retd
sXXXssss
TTC Newport Beach


Newport Beach, Calif. (ITF $25K women's event)
Singles
Katherine Sebov
1st rd: lost to Despina Papamichail (GRE) 64 67 (3) 63
Doubles
[3] Erin Routliffe (NZL) / Catherine Harrison (USA)
1st rd: def. Amina Anshba (RUS) / Panna Udvardy (HUN) 62 64
QF: lost to Emina Bektas (USA) / Tara Moore (GBR) 64 62
Singles qualifying
Erin Routliffe (NZL)
1st rd: lost to. [9] Aldila Sutjiadi (INA) 46 63 [10-8]
sXXXssss
Sharm el Sheikh 15K


Sharm el Sheikh, Egypt (ITF $15K women's event)
Singles
Raphaelle Lacasse
1st rd: def [3] Thaise Grana Pedretti (BRA) 46 76 (6) 64
2nd rd: lost to Mana Ayukawa (JPN) 64 62
Doubles
Raphaelle Lacasse / Lauren Proctor (USA)
1st rd: def. [2] Miyabe Inoue / Ramu Ueda (JPN) 67 (3) 62 [10-3]
QF: vs. Julita Saner (SWE) / Joanne Zuger (SUI) 76 (5) 62
Singles qualifying
Dasha Plekhanova
1st rd: def Klara Veldman (NED) 61 76 (6)
2nd rd: lost to [6] Olga Helmi (DEN) 64 61