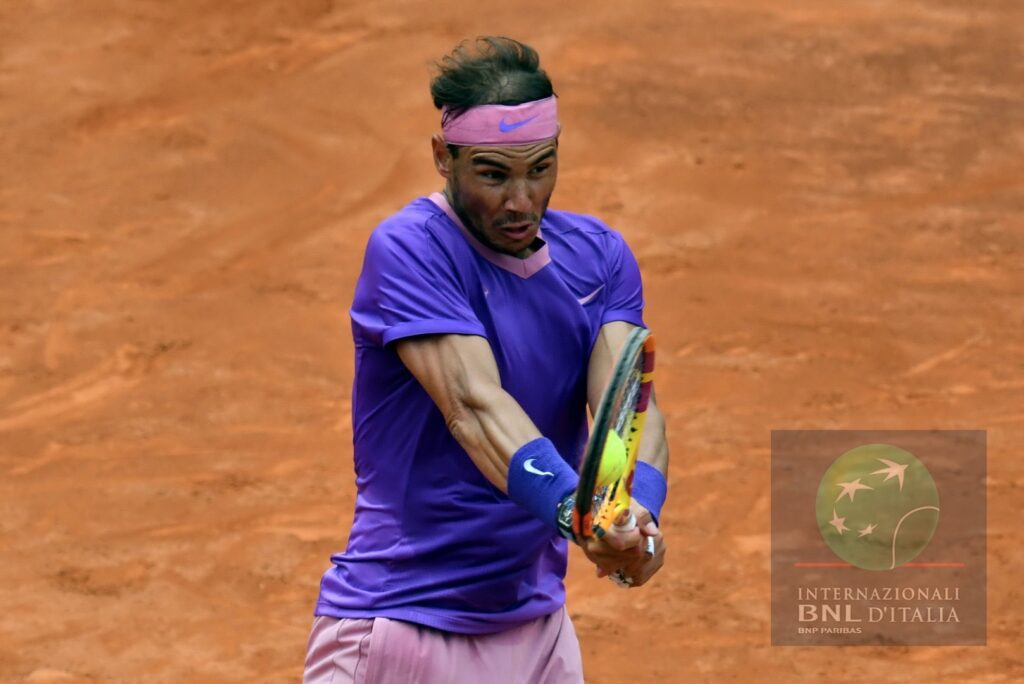 –
Rafael Nadal won Rome.
But it wasn't enough to get the No. 2 spot back in time for Roland Garros.
A big hit in the ATP Tour rankings comes this week, as it did for the women. All of the ranking points from the 2019 edition of the Italian Open fall off Monday.
The rankings twists mean that 2020 champion Novak Djokovic can keep those 1,000 points until the dates come around again in September. So he didn't lose any ground. But he didn't make any up, either, and finds himself less than 1,500 points ahead of both Daniil Medvedev and Nadal.
It's a lot. But it's also not a massive abyss.
(Diego Schwartzman, who made the 2020 final but lost early to Félix Auger-Aliassime this year, stays at No. 10 because he can keep those finalist points until the fall).
The consequence of that is that Nadal will have a 50 per cent chance of finding himself in Djokovic's half in Paris, while Medvedev – whose clay prowess is so much a … work in progress that he makes himself the butt of his own jokes, will be in the bottom half.
There is no change in the top 10 this week.
The Canadians are back to having three players in the top 20. Meanwhile, the surging Italians are back to having four in the top 30.
(For the complete ATP Tour rankings picture, click here).
ON THE UPSWING
Milos Raonic (CAN): No. 20 =========> No. 16 (Raonic is still nursing his ankle injury from Melbourne and expects to play in Paris – even if he's focusing on the grass. But the drops from other players jump him an unlikely four spots in the rankings Monday, even though he hasn't played since Miami and has played just 11 matches all season).
Félix Auger-Aliassime (CAN): No. 21 =========> No. 19 (Canada is back with three men in the top 20 after the 20-year-old Canadian moves up two spots. He thought he'd be facing Lorenzo Sonego in Lyon. But after his Rome run, Sonego pulled out and was replaced by another Lorenzo – Musetti).
Lorenzo Sonego (ITA): No. 33 =========> No. 28 (Back into the top 30 and matching his month-old career high after a wild, wild in Rome).
Reilly Opelka (USA): No. 47 =========> No. 35 (His unexpected but impressive run in Rome gets him a seeded spot in Paris. Borna Coric is out; Stan Wawrinka is all but out. He'd need one more. And you'd have to like his chances. It could give him a shot at a run, with all the confidence he's gained).
Federico Delbonis (ARG): No. 64 =========> No. 50 (Back in the top 50 after his effort in Rome).
Juan Manuel Cerundolo (ARG): No. 152 =========> No. 146 (Into the top 150 and a new career high for the 19-year-old Cordoba champion after reaching the semifinals at the Zagren Cballenger. He will be one to watch in the Roland Garros qualifying).
Sebastian Baez (ARG): No. 218 =========> No. 183 (Just 20, the Argentina jumped 35 spots in the rankings this week after winning the Zagreb Challenger. He hadn't played since winning the Santiago Challenger in mid-March. It's a career high).
ON THE DOWNSWING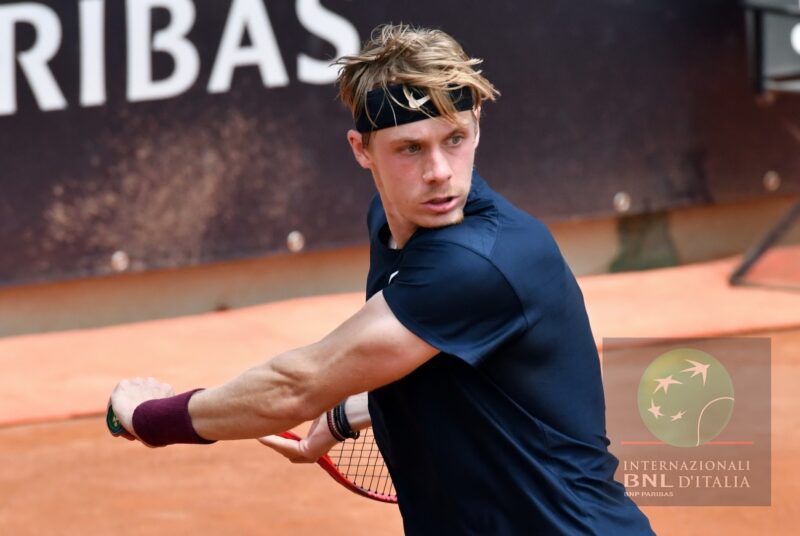 Denis Shapovalov (CAN): No. 14 =========> No. 15 (It could have been worse. The 22-year-old Canadian had semifinalist points to defend in Rome. And he made the quarters. So he gets to keep those semis points until September and when they fall, he'll be able to replace them with quarterfinal points. For now, he only drops one spot in the rankings).
Casper Ruud (NOR): No. 16 =========> No. 21 (Ruud, who missed Rome after making the Madrid semis as he takes care of a long-standing wrist injury, and drops out of the top 20. His semis points from 2020 stay for now. But he went from the qualifying to the round of 16 in his first big splash at the 2019 Rome event. And those points are now gone).
Dominik Koepfer (GER): No. 50 =========> No. 59
Stefano Travaglia (ITA): No. 69 =========> No. 76
Lorenzo Musetti (ITA): No. 82 =========> No. 88 (Musetti ended up getting into the main draw in Lyon, where he will face Félix Auger-Aliassime in the first round. The Canadian beat him 6-0 in the third set in Barcelona a few weeks ago).
Fernando Verdasco (ESP): No. 80 =========> No. 105 (He's played a bit, because he still could. But dropping that 2019 quarter-final result in Rome puts him out of the top 100 for the first time since March 2004, when he was just 20. At 37, it's unlikely he's going to start playing Challengers or spend too much time in the qualifying – he's no Tommy Robredo. So it feels as though we might not see him for much longer).
Philipp Kohschreiber (GER): No. 121 =========> No. 132 (It's too soon to know if the German, also 37, is on the same path as Verdasco. It appears he's still keen to play – he was in the Neckar Cup challenger in Germany this week and made the quarterfinals. But that ranking won't get him into the top events).
Juan Martin del Potro (ARG): No. 175 =========> No. 264 (He may indeed be back. But the loss of those 2019 Rome quarterfinal points means a big rankings drop. He has fourth-round points from the 2019 French Open disappearing soon as well. Not meaningful in the picture, but still no fun to watch).
Canadian Rankings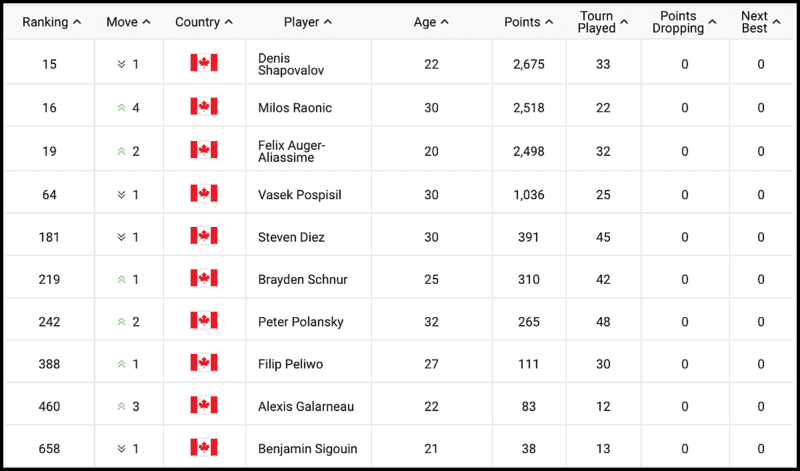 Road to Turin