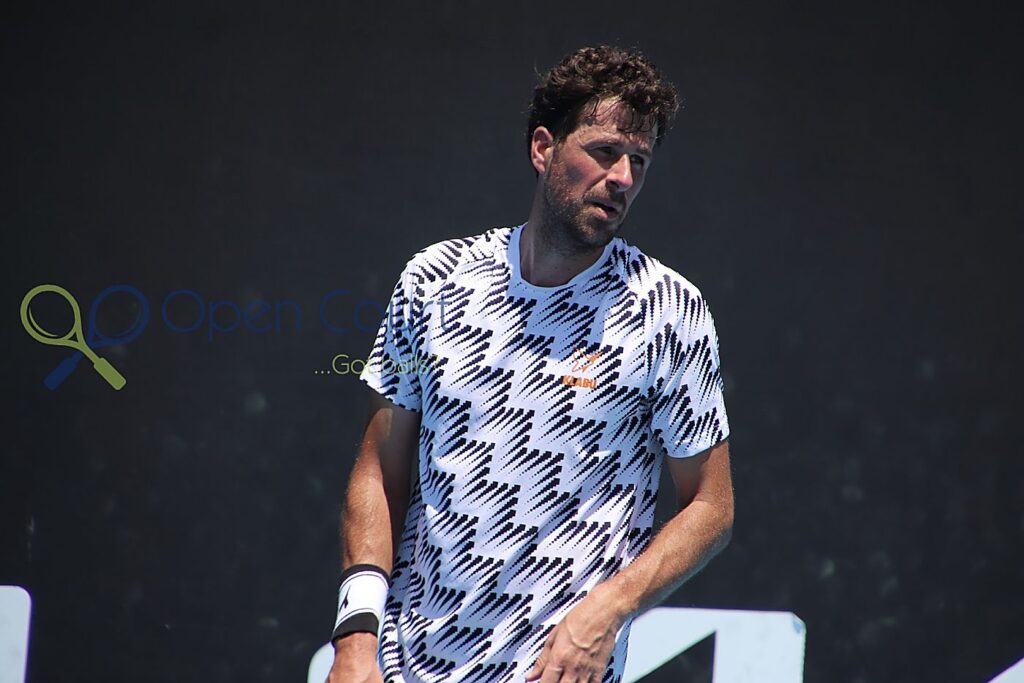 –
Some 24 of the 32 total second round of the men's qualifying go Wednesday. And while there look to be some competitive matches, there also are a lot of rather obscure South Americans that most people haven't heard much from on hard courts.
That's sort of how it is – but about two-thirds of the players are from Europe.
There are two Americans, and no Canadians – at least none currently representing the country.
**********************************
AO '22

Men's Singles Qualifying,

Second Round
Wednesday, Jan. 12, 2022
Results
Canadian content

16] Alejandro TABILO (CHI) def Constant LESTIENNE (FRA) 61 75
Overtime
Alessandro GIANNESSI (ITA) def. [26] Quentin HALYS (FRA) 36 63 76 [12-10]
Elias YMER (SWE) def Mario VILELLA MARTINEZ (ESP) 46 64 76 [10-6]
Injury retirements
[30] Damir DZUMHUR (BIH) def. [WC] Rinky HIJIKATA (AUS) 64 21 retd
Upsets
Gastao ELIAS (POR) def [11] Juan Pablo VARILLAS (PER) 76 (7) 46 64
Filip HORANSKY (SVK) def [14] Jurij RODIONOV (AUT) 76 (5) 46 75
Flavio COBOLLI (ITA) def [19] Zdenek KOLAR (CZE) 64 62
Seeds advancing
[5] Radu ALBOT (MDA) def. Yosuke WATANUKI (JPN) 61 26 62
[8] Yannick HANFMANN (GER) def. Tim VAN RIJTHOVEN (NED) 76 (8) 76 (3)
[12] Tomas Martin ETCHEVERRY (ARG) def Jason KUBLER (AUS) 75 57 63
[15] Nikola MILOJEVIC (SRB) def Vitaliy SACHKO (UKR) 63 76 (4)
[17] Joao SOUSA (POR) def. Marc POLMANS (AUS) 36 60 64
[18] Jiri LEHECKA (CZE) def. Max PURCELL (AUS) 76 (2) 76 (8)
[22] Tomas BARRIOS VERA (CHI) def Thiago Agustin TIRANTE (ARG) 64 76 (1)
[23] Emilio GOMEZ (ECU) def. Mitchell KRUEGER (USA) 63 75
Other results (in alphabetical order)
Enzo COUACAUD (FRA) def Vit KOPRIVA (CZE) 63 63
Ernesto ESCOBEDO (USA) def [ALT] Andrea VAVASSORI (ITA) 76 (3) 64
Thomas FABBIANO (ITA) def. Frederico FERREIRA SILVA (POR) 62 75
Tobias KAMKE (GER) def Dimitar KUZMANOV (BUL) 75 64
Mikhail KUKUSHKIN (KAZ) def Robin HAASE (NED) 75 76 (2)
Maximilian MARTERER (GER) def Prajnesh GUNNESWARAN (IND) 62 76 (8)
Dmitry POPKO (KAZ) def. [WC] Philip SEKULIC (AUS) 64 62
Timofey SKATOV (KAZ) def [WC] Dane SWEENY (AUS) 64 62
Marco TRUNGELLITI (ARG) def Pedro CACHIN (ARG) 75 64
About Post Author