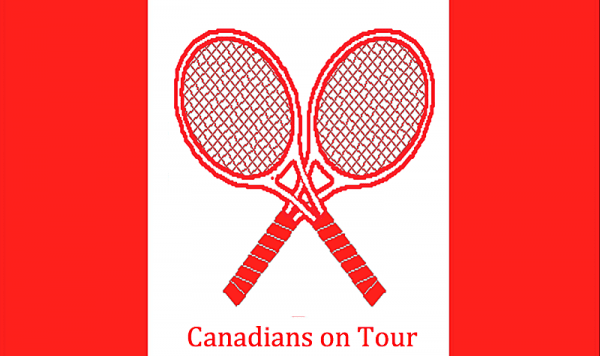 –
FLUSHING MEADOWS, NY – All the singles players were eliminated by the third round of the US Open last week.
So what remains are Gabriela Dabrowski in women's doubles, Leylah Fernandez in mixed and the juniors.
As well, Steven Diez continues on a run of $25K ITFs, and many others are competing around the world.
(Last week's final results at the bottom of the post).
***********************************
US Open
Queen's, NY (

Grand Slam

)
Women's doubles
[5] Gabriela Dabrowski / Giuliana Olmos (MEX)
1st rd: def. [WC] Peyton Stearns Ashlyn Krueger (USA) 62 61
2nd rd: def. [WC] Hailey Baptiste / Whitney Osuigwe (USA) 61 64
3rd rd: def. [9] Asia Muhammad (USA) / Ena Shibahara (JPN) 63 36 76 [10-8]
QF: lost to [3] Barbora Krejcikova / Katerina Siniakova (CZE) 63 67 (4) 63
Mixed doubles
Leylah Fernandez / Jack Sock (USA)
1st rd: def. Kimberley Zimmerman (BEL) / Tim Puetz (GER) 62 26 [10-5]
2nd rd: def. Gabriela Dabrowski (CAN) / Max Purcell (AUS) 64 76 (4)
QF: lost to [4] Storm Sanders / John Peers (USA) 75 76 (3)
Junior Girls' singles
[9] Victoria Mboko
1st rd: def. Kaitlin Quevedo (USA) 64 62
2nd rd: def. [Q] Rebecca Munk Mortensen (DEN) 64 63
3rd rd: def. Iva Jovic (USA) 62 62
QF: def [4] Céline Naef (SUI) 75 26 75
SF: lost to [10] Alexandra Eala (PHI) 61 76 (5)
Mia Kupres
1st rd: def. [15] Ksenia Zaytseva (RUS) 75 63
2nd rd: def [WC] Ariana Anazagasty-Pursoo (USA) 62 62
3rd rd: lost to [3] Lucie Hlavickova (CZE) 62 76 (9)
Kayla Cross
1st rd: def Charlotte Kempenaers-Pocz (AUS) 62 36 75
2nd rd: def. [13] Johanne Christine Svendsen (SWE) 64 36 61
3rd rd: lost to Ranah Akua Stoiber (GBR) 76 (2) 60
Annabelle Xu
1st rd: lost to [10] Alexandra Eala (PHI) 63 60
Boys' singles
[15] Jaden Weekes
1st rd: lost to Arthur Gea (FRA) 76 (3) 46 75
Girls' doubles
[6] Kayla Cross / Victoria Mboko
1st rd: lost to Malak El Allami (MAR) / Ella McDonald (GBR) 63 retd
Mia Kupres / Renata Stoiber (GBR)
1st rd: def. [7] Irina Balus / Nikola Daubnerova (SVK) 61 62
2nd rd: def. Sayaka Ishii (JPN) / Lanlana Tararudee (THA) 75 64
QF: lost to Carolina Kuhl / Ella Seidel (GER) 46 75 [10-8]
Annabelle Xu / Alexis Blokhina (USA)
1st rd: def Melisa Ercan (TUR) / Amelia Waligora (BEL) 63 75
2nd rd: def Anastasiia Gureva / Hayu Kinoshita (JPN) 63 36 [11-9]
QF: def Katherine Hui / Eleana Yu (USA) 75 46 [10-8]
SF: lost to Carolina Kuhl / Ella Seidel (GER) 75 64
Boys' doubles
[7] Jaden Weekes/ Nicholas Godsick (USA) WD
***********************************
Cassis Open Provence
Cassis, France

(ATP Challenger)
Singles qualifying
Filip Peliwo (POL)
1st rd: lost to Arjun Kadhe (IND) 67 (4) 62 62
***********************************
Tournoi International de Bagnères-de-Bigorre
Bagnères-de-Bigorre, FRA (ITF $25K)
Singles
Steven Diez
1st rd: def Seydina Andre (SGL) 76 (4) 63
2nd rd: def. [WC] Paul Cayre (FRA) 64 62
QF: def Adrian Gobat (FRA) 61 62
SF: lost to [5] Mark Lajal (EST) 63 62

***********************************
M25 Sintra I
Sintra, Portugal (ITF $25K)
Singles



Kelsey Stevenson
1st rd: def [Q] Nuno Pinheiro (POR) 64 63
2nd rd: lost to Adria Soriano Barrera (ESP) 75 62

Doubles
[2] Kelsey Stevenson / Scott Duncan (GBR)
1st rd: def. Ighor Halmenschlager (BRA) / Illia Stollar (POR) 62 62
QF: lost to Benjamin Hannestad (DEN) / Harry Wendelken (GBR) 46 76 (5)[10-1]
Singles qualifying
Masood Eisa-Beygi
1st rd: def. Pedro Liborio (POR) WALKOVER
2nd rd: lost to [1] Aleksi Lofman (FIN) 62 62
Thomas Sorensen
1st rd: lost to Luis Miguel Saraiva (POR) 63 62
***********************************
Prestige Tennis Cup 2022
Frydek Mistek, Czech Republic (ITF $25K)
Doubles
Bianca Jolie Fernandez / Noemi Babikova (SVK)
1st rd: lost to [4] Sapfo Sakellaridi (GRE) / Emily Seibold (GER) 60 62
Singles qualifying
[3] Bianca Jolie Fernandez
1st rd: Bye
2nd rd: lost to Veronika Bokor (AUT) 67 (3) 76 (2) [10-8]
*************************
Open International de Tennis Féminin de Saint-Palais-sur-Mer
Saint-Palais-sur-Mer, France (ITF $25K)
Singles qualifying
[8] Ana Grubor
1st rd: Bye
Final rd: lost to [15] Astrid Lew Yan Foon (FRA) 60 36 [10-1]

*************************
Yeongwol Women's Tennis Tour – Week 2
Yeongwol, Korea Republic (ITF $15K)
Singles
Arisha Ladhani
1st rd: lost to [6] Dayeon Back (KOR) 61 60
*************************
World Tennis Tour Cancun 2022

Cancun, Mexico (ITF $15K)
Singles



Louise Kwong
1st rd: lost to [WC] Wakana Sonobe (JPN) 63 62
Doubles
Louise Kwong / Anna Ulyashchenko (USA)
1st rd: def [WC] Anushka Ashar / Elizabeth Tkachenko (USA) 46 63 [10-2]
QF: def. [2] Eleonore Tchakarova / Verginie Tchakarova (BUL) 63 46 [10-5]
SF: def. [3] Nadia Echeverria Alam (VEN) / Maria Camila Torres Murcia (COL) 36 64 [10-3]
F: vs TBA
*************************
Bright Trophy


Constanta, Romania (ITF $15K)
Singles
[Q] Razvan Baiant
1st rd: lost to [1] Nicholas David Ionel (ROU) 61 62
Doubles
Razvan Baiant / Simone Agostini (ITA)
1st rd: def [WC] Alexandru Dumitru / Christian Teszari (ROU) 36 63 [10-8]
QF: lost to [1] Gabi Adrian Boitan (ROU) / Kai Wehneit (GER) 60 60
Singles qualifying
[4] Razvan Baiant
1st rd: Bye
2nd rd: def. Dusan Bajic (SRB) 75 26 [10-6]
Final rd: def Vasil Yehorov (UKR) 75 26 [10-8]

*************************
T-Systems Cup


Budapest, Hungary (ITF $15K)
Singles qualifying
[10] Stefan Simeunovic
1st rd: def [WC] David Bakonyi (HUN) 61 61
Final rd: lost to Dennis Gragomirov (GER) 75 36 [10-6]
*************************
Morocco Tennis Tour


Casablanca, Morocco (ITF

Men's

&

Women's

$15K)
Women's singles
[Q] Maria Patrascu
1st rd: lost to [WC] Ela Platenikova (SVK) 64 62
Women's doubles
Maria Patrascu / Parentini Vallega Montebruno
1st rd: vs [2] Laura Hieteranta (FIN) / Stephanie Visscher (NED) 61 61
Women's singles qualifying
[1] Maria Patrascu
1st rd: Bye
2nd rd: Bye
Final rd: def. Africa Burillo Berezak (ESP) 63 36 [10-5]
Men's singles qualifying
Ghouse Ali Faisal
1st rd: lost to Jamie Krattiger (SUI) 76 (3) 63

*************************
Magic Tours

Monastir, Tunisia (ITF $15K)
Singles qualifying
Zelimir Rudan
1st rd: def [13] Tommaso Roggero (ITA) 46 61 [11-9]
2nd rd: def. Yessine Kerouat (TUN) 61 76 (3)
Final rd: lost to [2] Nikolay Nedelchev (BUL) 62 61

*************************
About Post Author