–
It's Monday, and Novak Djokovic is still No. 1.
Barely – had Carlos Alcaraz won the Rio final on Sunday they'd have been in a virtual tie at 6,980 points.
But more pertinently, it is the 378th week of his career that Djokovic sits atop the ATP Tour rankings. It's a highly impressive feat. Here's a Twitter thread that lays out some of the impressive statistics he's amassed.
Back to the regular programming …
A 250 in Doha – but a loaded one, along with an ATP 500 in Rio and another 250 in Marseille makes for a full slate of rankings opportunities.
Not to mention a handful of high-level Challengers.
The yearly cycle this year also means that players often will drop their points from the previous year's edition before they even play it in 2023, instead of concurrently.
And so it was that Daniil Medvedev prevailed in Doha, and Hubert Hurkacz took the trophy in Marseille.
The last to come was the final in Rio between Carlos Alcaraz and Cameron Norrie, where a win by Alcaraz would put him in a virtual tie for the No. 1 ranking with Novak Djokovic. At least for a week.
ON THE UPSWING
Taylor Fritz (USA): No. 7 ======> No. 5 (Even though he was idle this week, the American moves up to the top 5, and a career high, after both Andrey Rublev and Rafael Nadal drop big points from a year ago).
Cameron Norrie (GBR): No. 13 ======> No. 12 (The 27-year-old only moves up one spot with his title at the ATP 500 in Rio. But it was a big win over a big opponent, and some hard yards on the clay over the last two weeks that will serve him well on that surface going forward).
Bernabe Zapata Miralles (ESP): No. 63 ======> No. 42 (This hard-working Spaniard reaches a career high with his semifinal effort in Rio. It's been a great South American swing for him).
Benjamin Bonzi (FRA): No. 60 ======> No. 45 (Bonzi, 26, rebounds with a run to the final in Marseille. The French rankings have bounced up and down a bit the last few weeks. But he returns to the No. 2 spot in his country just two spots behind Richard Gasquet. He wasted no time pulling out of Dubai and taking a bit of a breather).
Jiri Lehecka (CZE): No. 52 ======> No. 47 (Lehecka, just 21, moved up to a career high No. 37 after his great run at the Australian Open. And then dropped. But he gained some ground by making the Doha semifinals).
Andy Murray (GBR): No. 70 ======> No. 52 (Murray's wondrous comeback runs continue, and they took him all the way to the Doha final. He's still in the Dubai draw as of Sunday afternoon, due to play Marseille champ Hubert Hurkacz. But we'll see …)
Mikael Ymer (SWE): No. 69 ======> No. 59 (It's a career high for the 24-year-old Swede, who made the quarters in Marseille).
Nicolas Jarry (CHI): No. 139 ======> No. 87 (Finally, after two years of coming back from no ranking after a doping suspension, Jarry is back in the top 100 after an impressive effort from the qualifying to the semis in Rio. He gave Carlos Alcaraz all he could handle, too, before running out of gas after six matches in a week. The effort earned him a special-exempt spot into Santiago).
Hugo Dellien (BOL): No. 111 ======> No. 96 (Dellien missed some time with injury, his season cut short after Wimbledon last year. But he's back in the top 100 after making the Rio quarterfinals. He had already jumped up 27 spots with a run from the qualifying to the semis in Buenos Aires).
Stan Wawrinka (SUI): No. 105 ======> No. 97 (Wawrinka made the quarters in Marseille. And he's back in the top 100 for the first time since Jan. 2022).
Arthur Fils (FRA): No. 118 ======> No. 104 (A year ago, the 18-year-old was ranked No. 526. After two great efforts in France-based ATPs, he's just a few measly points away from the top 100. To get straight into Roland Garros on his ranking, after being the boys' finalist and double champion in 2021, would be an impressive effort).
Max Purcell (AUS): No. 155 ======> No. 116 (The Mullet Man strikes again, winning the Challenger in Bengaluru a week after winning the one in Chennai. That's a career high, and nearly 100 spots hacked off his singles ranking in two weeks. When you think about it, now that he's let his mullet grow out, he MIGHT be pulling a J.J. Wolf …)
Dominic Stricker (SUI): No. 153 ======> No. 120 (The 20-year-old wins the Challenger in Rovereto, Italy and gets close to his career high. He promptly pulls out of this week's Challenger in Pau).
Borna Gojo (CRO): No. 160 ======> No. 127 (Gojo made the final at the Monterrey Challenger).
Alex Michelsen (USA): No. 466 ======> No. 356 (Just 18, this 6-foot-4 So-Cal kid made tthe final at the Rome Challenger this weekend).
Bernard Tomic (AUS): No. 430 ======> No. 374 (Still grinding out there, the former No. 19 reaches the Monterrey Challenger quarterfinals).
Donald Young (USA): No. 607 ======> No. 597 (Winning a round in Challenger qualifying gets Young back into the top 600. Another player formerly ranked in the top 40 who just fell into the abyss).
ON THE DOWNSWING
Rafael Nadal (ESP): No. 6 ======> No. 8 (Nadal was on his undefeated streak a year ago, when he won Acapulco. Those points fall off. But he's still nearly 600 points ahead of Félix Auger-Aliassime at No. 9. He pulled out of Dubai this week; who knows what his outcome will be for Indian Wells and Miami).
Denis Shapovalov (CAN): No. 27 ======> No. 30 (Shapovalov drops 180 points from his semifinal in Dubai a year ago. He's at his lowest ranking since Oct. 2019. The Canadian is in Acapulco this week, with Miomir Kecmanovic as a first-round opponent. On the plus side, he doesn't have much to defend at Indian Wells or in Miami. A year ago, he was ranked No. 13).
Jack Draper (GBR): No. 44 ======> No. 53 (Draper, who has not played since losing to Rafael Nadal in the first round of the Australian Open, drops points from winning a Challenger in Italy a year ago and is out of the top 50. He and countrywoman Emma Raducanu have gotten British tennis pretty excited over the last year and a half. But both have been snake-bitten somewhat; Raducanu is out of Austin this week with … tonsillitis, after already travelling to Texas).
Mackenzie McDonald (USA): No. 49 ======> No. 62 (After some brief moments in the top 50, the 27-year-old drops after not playing last week, and losing points from his quarterfinal in Dubai a year ago. The bad news for him this week in Acapulco is that he drew Carlos Alcaraz in the first round. But Alcaraz, after a gruelling two weeks in South America, may not be in tip-top form or may not play at all. All to be discovered).
Marcos Giron (USA): No. 55 ======> No. 69 (Same situation for Giron, who was a quarterfinalist in Acapulco a year ago and was the player guest at the Acapulco draw yesterday –thus finding out in real time that he was playing countryman Michael Mmoh in the first round).
Dominic Thiem (AUT): No. 96 ======> No. 99 (Thiem was out in the first round of Rio to Thiago Monteiro. He'll try to grab some more points after deciding on a wild card into the ATP 250 in Santiago, Chile this week. He already has a wild card for Indian Wells).
Pedro Martinez (ESP): No. 76 ======> No. 117 (A solid, solid player, Martinez drops out of the top 100 after his points from winning the title in Santiago a year ago fall off. He lost to Jarry in the second round in Rio. Last May, he was at his career high of No. 40. Martinez drew a qualifier in the first round of Santiago this week).
Taro Daniel (JPN): No. 108 ======> No. 125 (After finally getting into the top 100 last July – four years after reaching his career high of No. 64 just before the 2018 US Open – Daniel loses in the second round of the Monterrey Challenger and continues a downward trend. He did make it through the qualifying in Acapulco this weekend).
Vasek Pospisil (CAN): No. 112 ======> No. 139 (Pospisil left Cherbourg a couple of weeks ago in the first round in a poof of on-court drama. And he announced he'd be taking a break for a few months. These points come from the Challenger final in Pau a year ago, and drop off as his ranking takes a hit. He went into the indoor Challenger season already feeling the pressure of defending a bunch of points. And he wasn't really able to do it; he has another 30 falling off in a week. But after that there's not much to worry about as he works towards getting back to it).
Alejandro Tabilo (CHI): No. 148 ======> No. 186 (The Canadian who represents Chile got to No. 64 not so long ago. But he hasn't managed to duplicate his South American clay efforts from a year ago. And after losing in the final round of qualfying to countryman Barrios Vera in Rio, he drops a fair bit after the points from his semifinal in Santiago last year drop off. He'll try to recoup at the same event, taking place this week).
Pablo Andujar (ESP): No. 211 ======> No. 251 (More bad news for the 37-year-old's ranking, as he loses to Alexandre Ritschard in the first round in Marseille).
Ricardas Berankis (LTU): No. 189 ======> No. 263 (The 32-year-old from Lithuania didn't make the trip to Australia, saying in Europe and playing Challengers. He had quarterfinal results in Dubai a year ago, and those drop off painfully).
Peter Gojowczyk (GER): No. 227 ======> No. 333 (The 33-year-old, whose career high is No. 39 back in 2016, loses in the second round of the Rovereto and drops the points he got a year ago from making the quarterfinals in Acapulco).
Stefan Kozlov (USA): No. 273======> No. 354 (Not in action last week, the former Orange Bowl junior champion drops points from his second-round effort a year ago in Acapulco, where he was a great story. Not only did he get stranded out in the ocean and have to be rescured the previous day, he was just hanging out practicing with Nadal, having lost in the final of qualifying, when he got the word that he was in – checking his phone only because Nadal had broken a string. And then, despite cramping badly, he managed to upset Grigor Dimitrov in the first round of the main draw after a three-hour, 21-minute marathon. After that effort, Kozlov's ranking checked in at No. 120; near his career high. Things have not gone well in the interim. Kozlov also was part of the story for Cinderella Matija Pecotic in Delray Beach a few weeks ago as well; He was up 7-6, 55 in the first round of qualifying and retired – which led Pecotic to being the talk of the tournament).
Jiri Vesely (CZE): No. 121 ======> No. 384 (Huge blow to the 29-year-old Czech's ranking, as he drops all those points from making the final a year ago in Dubai. The former world No. 35 was idle last week, and so couldn't even put a dent in it; he hasn't played since last year's US Open).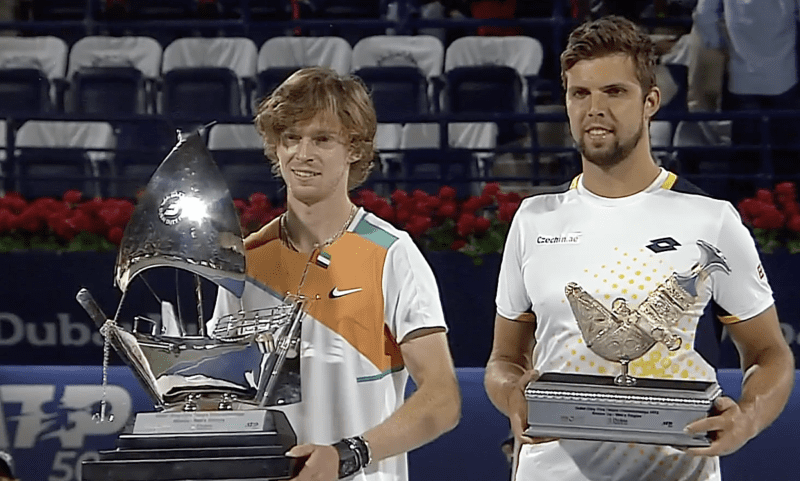 Pierre-Hugues Herbert (FRA): No. 374======> No. 392 (Nope, we don't know, either).
Lucas Pouille (FRA): No. 429 ======> No. 451 (Ditto. Remember that this fellow, around this time of year five years ago, hit the top 10. He played a few Challengers so far in 2023, but not in the last month).
Juan Ignacio Londero (ARG): No. 474 ======> No. 581 (Another guy in his late 20s who just fell off the face of the earth. Londero hit the top 50 at the end of the 2019 season, during which he won the Cordoba ATP event as a wild card, having come into the tournament without even an ATP Tour main-draw victory in his resumé. Londero didn't play after Gstaad in July, 2022. He returned at two small Challenger in Argentina in January, but retired in his first-round match at the second and hasn't been seen since).
THE CANADIANS
THE ROAD TO TURIN
Doubles Race
About Post Author