–
It was apparent from the beginning of Vasek Pospisil's first-round match in Miami that he was rather out of sorts.
As the first set went on, it became apparent why.
The 30-year-old Canadian had a rough night last night.
Before the first set was over, Pospisil got a warning, a point penalty (that cost him the set) and then went off on ATP Tour chairman Andreas Gaudenzi.
We won't violate video copyright here. But we won't spare you the language – because we're all adults here, right?
(All screenshots from TennisTV.com)
Late-night Twitter-pology from Pospisil
At about 11:30 p.m. Wednesday night, the Canadian took to Twitter to offer up an apology.
I underestimated the toll those emotions took on me until I stepped onto the court today. Again, I am sorry for my on-court behavior and the language I used. #players [2/2]— Vasek Pospisil (@VasekPospisil) March 25, 2021
Sequence of events leads to a diatribe about Gaudenzi
*At 3-4 in the first set, having been broken and not making a massive effort on the return, Pospisil fires the return out of court at 40-0 to give McDonald the lead at 5-3.
He then banged the towel box with his racquet, which earned him some words from chair umpire Arnaud Gabas.
"What, I can't do that?" was the tetchy reply from Pospisil.
Then, before Pospisil served to stay in the set, he crushed the racquet against the court. Pieces went flying all over the place.
He then left it in the corner of the court, as Gabas issued a warning for racquet abuse.
Then, returning to the racquet, he threw it, hard, back to his bench area. Also not a particularly wise move. And then he returned to the bench area to finish the poor racquet off.
Pospisil giving away the set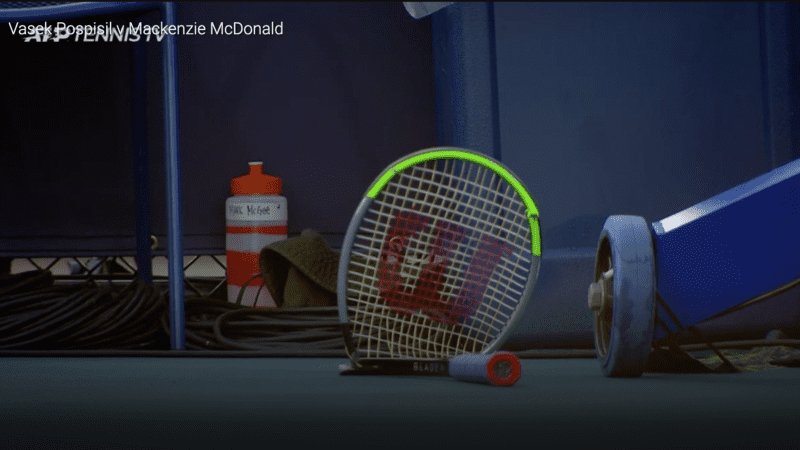 On the first point, Pospisil underarmed a serve and fired a one-handed backhand way long.
At 0-15, he tanked a backhand into the net.
At 15-30, a double fault.
At 15-40, mumbling obscenities, he was awarded a point penalty for the second violation, thus giving the set to a rather bemused McDonald.
And then it got real
Ranting about ATP Chair Gaudenzi
Gabas asked him what was wrong with him on this day.
That was enough to get him going.
"What's happening today? An HOUR AND A HALF yesterday, the chair of the ATP fucking screaming at me in a player meeting, for trying to unite the players," Pospisil said.
"For an hour and a half."
"The LEADER of the ATP."
"Get him out here. … Fuck … Fucking asshole."
Gabas had had enough, and suggested that if Pospisil had something to say to Gaudenzi, he should say it outside the court.
That didn't go well.
Pospisil continued on.
"Why am I supporting this fucking ….." (Tour, he likely said, although it was inaudible).
"You want to default me, I'll gladly sue this WHOLE ORGANIZATION," Pospisil added, mentioning something about "one of the biggest law firms in the …"
Pospisil has a point – they went after him
As upset as Pospisil clearly was, it wasn't as though there was nothing to his story.
According to a reliable source, we're told that in front of a large group of players who showed up for the players' meeting, Gaudenzi and company really went after him.
They called him things like "ignorant", "uneducated" – lovely stuff like that.
We're told that he was in tears. And that even just before he took the court today to play his match, he was still shaken up.
No doubt more to come
Mumbling about a lack of focus, Pospisil is still in the match against McDonald, although he has mumbled about a lack of focus.
No kidding.
In fact, he won the second set before fading late in the third.
What we heard late last night was that there was a player vote – or at least a strong discussion – about not playing the Miami Open at all.
It's now clear that, in the absence of Novak Djokovic, Pospisil was leading this discussion.
It must have been a pretty steamy room.
Battle between Pospisil, Djokovic and the ATP nothing new
Since Novak Djokovic and Pospisil announced the (planned) formation of the PTPA, the "Professional Tennis Players Association" at the US Open last August, things have been rather tense.
Pospisil and Djokovic (and others) resigned from the ATP Tour Council.
Then, nominated to run again in the elections, they pulled their names from consideration, somewhat under duress even though a quick by-law amendment didn't, technically, require them to recuse themselves as the PTPA isn't even a thing yet.
A lot of hardball going on. And now, the ATP honchos know exactly what buttons to push.
About Post Author