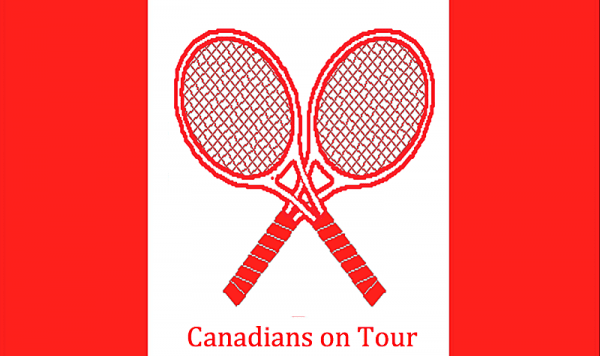 –
The second week of Wimbledon is here, starting with Manic Monday – when two Canadian men will try to get to the singles quarterfinals.
As well, two Canadians qualified for the main draw of the junior girls' singles.
Denis Shapovalov got all the way to the semifinals before he bowed out to Novak Djokovic.
In the meantime, tennis continues around the planet, with veteran Peter Polansky the top seed at a … $25K in Kazakhstan.
Wimbledon – 2nd Week




London, England (Grand Slam)
Men's singles
[10] Denis Shapovalov
1st rd: def [PR] Philipp Kohlschreiber (GER) 63 46 63 57 64
2nd rd: def. Pablo Andujar (ESP) WALKOVER
3rd rd: def [WC] Andy Murray (GBR) 64 62 62
4th rd: def. [8] Roberto Bautista Agut (ESP) 61 63 75
QF: def. [25] Karen Khachanov (RUS) 64 36 57 61 64
SF: lost to [1] Novak Djokovic (SRB) 76 (3) 75 75
[16] Félix Auger-Aliassime
1st rd: def Thiago Monteiro (BRA) 63 63 63
2nd rd: def Mikael Ymer (SWE) 64 46 76 (4) 61
3rd rd: def Nick Kyrgios (AUS) 26 61 retd
4th rd: vs. [4] Alexander Zverev (GER) 64 76 (5) 36 36 64
QF: lost to [7] Matteo Berrettini (ITA) 63 57 75 63
Women's doubles
[9] Sharon Fichman / Giuliana Olmos (MEX)
1st rd: def Vivian Heisen (GER) / Kveta Peschke (GER) 61 62
2nd rd: def Marta Kostyuk (UKR) / Jelena Ostapenko (LAT) WALKOVER
3rd rd: lost to Aleksandra Krunic / Nina Stojanovic (SRB) WALKOVER
Mixed doubles
[2] Gabriela Dabrowski / Mate Pavic (CRO)
1st rd: Bye
2nd rd: def Matthew Ebden / Samantha Stosur (AUS) 75 76 (8)
3rd rd: def. [13] Sander Gille (BEL) / Hayley Carter (USA) 64 64
QF: lost to [9] Kevin Krawietz (GER) / Kveta Peschke (CZE) 63 67 (3) 97
Girls singles
[Q] Annabelle Xu
1st rd: lost to Barbora Palicova (CZE) 63 62
[Q] Kayla Cross
1st rd: lost to [8] Linda Fruhvirtova (CZE) 57 41 retired
Girls doubles
[Q] Annabelle Xu/ Kayla Cross
1st rd: lost to [6] Mara Guth / Julia Middendorf (GER) 26 64 [10-6]
sXXXssss
Nordea Open


Bastad, Sweden (WTA 125)
Doubles
[2] Erin Routliffe (NZL) / Cornelia Lister (SWE)
1st rd: def Olga Govortsova (BLR) / Natalia Vikhlyantseva (RUS) 62 46 [10-8]
QF: def. Karman Thandi (IND) / Zuzana Zlochova (SVK) 76 (6) 26 [10-4]
SF: lost to Mirjam Bjorklund (SWE) / Leonie Kung (SUI) 26 62 [11-9]
sXXXssss
Sparkassen Open


Braunschweig, Germany (ATP Tour Challenger)
Singles
Steven Diez
1st rd: lost to [3] Yannick Hanfmann (GER) 75 26 63
sXXXssss
Nur-Sultan International Tournament 1


Nur-Sultan, Kazakhstan (ITF $25K)
Singles
[1] Peter Polansky
1st rd: lost to Andrey Kuznetsov (RUS) 75 63
––––––––––
Poprad – Tatry Open 2021


Poprad, Slovakia (ITF $15K)
Singles
Filip Peliwo
1st rd: def [JE} Alex Barrena (ARG) 76 (4) 63
2nd rd: def. [Q] Matias Soto (CHI) 62 62
QF: lost to [WC] Milos Karol (SVK) WALKOVER
Doubles
[1] Filip Peliwo / Mariano Kestelbolm (ARG)
1st rd: def Milos Karol (SVK) / Daniel Siniakov (CZE) 61 63
QF: lost to Timo Stodder (GER) / Matias Soto (CHI) WALKOVER
––––––––
15K Monastir


Monastir, Tunisia (ITF $15K joint event)
Singles
[8] Kelsey Stevenson
1st rd: lost to Alec Beckley (RSA) 36 62 63
Doubles
[1] Kelsey Stevenson / Timur Kiyamov (RUS)
1st rd: def Gabriele Bosio / Lorenzo Rottoli (ITA) 63 76 (8)
QF: lost to Rinky Hijikata / Kody Pearson (AUS) 64 64
––––––––––
Prokulpje Open


Prokuplje, Serbia (ITF $15K event)
Singles
[JE] Victoria Mboko
1st rd: def. Katarina Kuzmova (SVK) 62 57 61
2nd rd: lost to [Q] Ekaterina Reyngold (RUS) 60 62
[Q] Bianca Jolie Fernandez
1st rd: def Carlota Martinez Cirez (ESP) 63 40 retd
2nd rd: def. [1] Tamara Curovic (SRB) 63 63
QF: lost to [Q] Jana Bojovic (SRB) 75 61
Doubles
Mia Kupres / Ekaterina Reyngold (RUS)
1st rd: def. Daria Shalamanova / Beatris Spasova (BUL) 64 62
QF: lost to Gebriela Mihaylova (BUL) / Sapfo Sakellaridi (GRE) 63 64
Victoria Mboko / Andrea Mrvic (SRB)
1st rd: lost to Maja Radenkovic (SWE) / Marta Matoula (GRE) 76 (1) 76 (4)
Singles qualifying
[10] Bianca Jolie Fernandez
1st rd: def. Elena Micic (AUS) 64 64
2nd rd: def. Marta Matoula (GRE) 46 63 [10-7]
FInal rd: def. [4] Anita Bertoloni (ITA) 63 36 [10-6]
––––––––––––––––
About Post Author