–
The BFF duo of Félix Auger-Aliassime and Alexis Galarneau – for hashtag purposes, "Félixis" – are excited about finally teaming up at an ATP Tour event.
They were probably less thrilled when they saw the draw.
The two will square off Monday at noon against the powerful Russian pair of Andrey Rublev and Karen Khachanov.
Not only are the two top singles players, they have played together some in recent years. They're in the top 100 in the doubles rankings despite having fewer events on their resumé than all but three other players.
(The fervent doubles specialists, because of the frozen rankings, have as many as … 60 on their chart. The Russians have … 16).
So it will be an uphill battle.
But it won't be the first time a young all-Canadian duo was up against it at the National Bank Open.
#Shaugur – vs. the Wimbledon finalists
Three years ago, the team of Denis Shapovalov (19) and Félix Auger-Aliassime (about to turn 18) teamed up in Toronto.
The two had won the US Open junior title together three years before.
Their draw: Novak Djokovic and Kevin Anderson.
Thosee two now find themselves on opposite sides. Anderson is the president of the ATP Tour player council, and Djokovic is leading the revolution with the PTPA.
But at the time, that wasn't the case. And less than a month before, they had faced off in the Wimbledon men's singles final.
Here's what it looked like – on the smaller Grandstand court in Toronto before a packed house.
(The kids lost, 6-3, 6-2).
Back in 2010 – another pair of Kanadian Kids
Some 11 years ago, the previous generation of up-and-coming Canadians teamed up for doubles in Toronto.
In 2010, Vasek Pospisil was 20; Milos Raonic was 19.
At the time, Raonic was at No. 209 in singles (having just moved up 50 spots after reaching the final of a Challenger in Granby).
Pospisil was at No. 331. At the time – to give you an idea how things have changed – the top Canadian player in singles was Jesse Levine, at No. 161.
They met … the one-off, all-star dream team of Novak Djokovic and Rafael Nadal.
It rained all day that day – the first Monday of the tournament. And everything was pushed back. But as the evening session began, things cleared up and this battle of Davids vs. Goliaths was put on the stadium court, where it belonged.
The first salvo from 19-year-old Raonic set the tone.
He was a little pumped.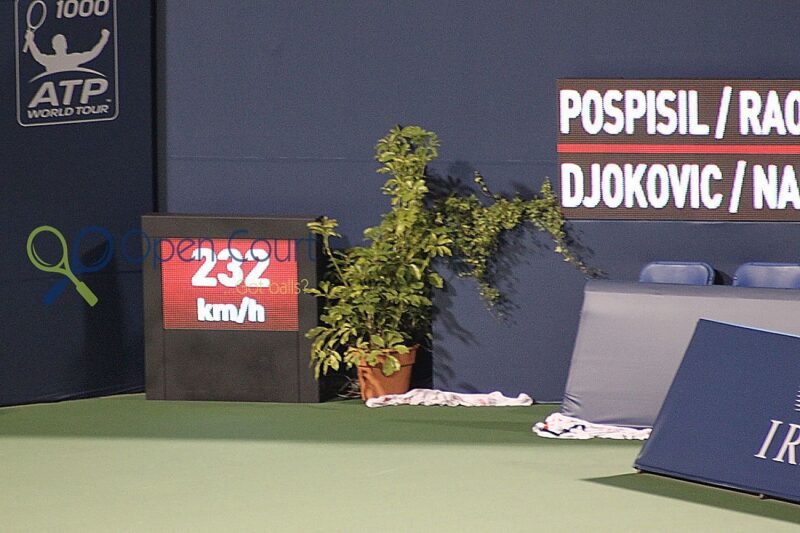 In the end, the kids won – 5-7, 6-3, 10-8 in the match tiebreak.
(The lost in the next round to Jürgen Melzer and Philip Petzschner)
We'll see if #Félixis can pull off the same kind of deal.
About Post Author