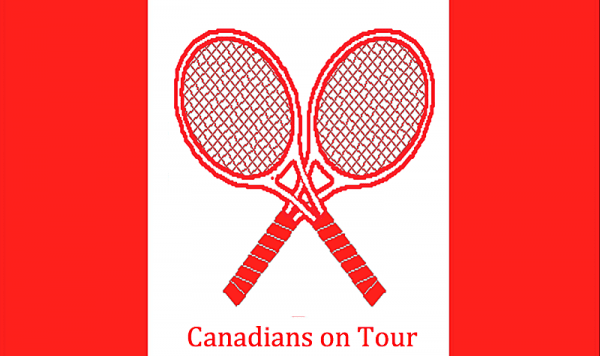 –
MELBOURNE, Australia – The Australian Open is done, and the Tours resume their regularly-scheduled programming.
Nothing at the ATP level on the men's side (with the South American clay-court and European indoor swings starting soon, this week is a "Davis Cup" week). But plenty of Challengers.
The women are in Lyon and Hua Hin.
Bianca Andreescu took a wild card into the latter event, and got to the semifinals before retiring after being up in the first set, losing eight straight games and being treated for a shoulder complaint.
In Koblenz, Vasek Pospisil reached the singles final. Good effort from him.
***********************************
Thailand Open
Hua Hin, Thailand (

WTA 250

)
Singles



[1/WC] Bianca Andreescu
1st rd: def Harriet Dart (GBR) 63 64
2nd rd: def Anastasia Zakharova (RUS) 62 75
QF: def. [5] Marta Kostyuk (UKR) 60 76 (3)
SF: lost to Lesia Tsurenko (UKR) 75 40 retd
Doubles
Erin Routliffe (NZL) / Wang Xiyu (CHN)
1st rd: lost to Hao-Ching Chan / Fang-Hsieh Wu (TPE) 61 75
***********************************
Koblenz Open
Koblenz, Germany (ATP Challenger €118K)

Singles
[3] Vasek Pospisil
1st rd: def Emilio Nava (USA) 75 62
2nd rd: def. [Q] Mats Rosenkranz (GER) 76 (6) 76 (2)
QF: def [ALT] Louis Wessels (GER) 64 62
SF: def. Zdenek Kolar (CZE) 61 63
F: lost to [2] Roman Safiullin (RUS) 62 75
***********************************
Cleveland Open
Cleveland, OH (ATP Challenger $80K)

Singles
[8] Gabriel Diallo
1st rd: def Alafia Ayeni (USA) 61 61
2nd rd: def. Mitchell Krueger (USA) 67 (6) 61 61
QF: lost to [1] Emilio Gomez (ECU) 76 (5) 46 75
Doubles
Gabriel Diallo / Aleksandar Kovacevic (USA)
1st rd: def Evan Zhu / Alexandr Cozbinov (MDA) 76 (3) 64
QF: lost to [2] Ruben Gonzales (PHI) / Reese Stalder (USA) 62 63
Benjamin Sigouin / Strong Kirchheimer (USA)
1st rd: def. Joshua Sheehy (USA) / Jody Maginley (ANT) 76 (2) 57 [10-5]
QF: lost to [1] Robert Galloway (USA) / Hans Hach Verdugo (MEX) 61 62
Singles qualifying
[7] Liam Draxl
[ALT] Taha Baadi
1st rd: def. [11/ALT] Gabi Adrian Boitan (ROU) 16 63 63
FInal rd: lost to [1] Alfredo Perez (USA) 61 76 (7)
[ALT] Joshua Lapadat
1st rd: lost to [9/WC] William Blumberg (USA) 64 63
[ALT] Benjamin Sigouin
1st rd: lost to [4] Aidan Mayo (USA) 46 60 41 retd
***********************************
Tenerife Challenger 2
Tenerife, Canary Islands (ATP Challenger $73K)

Doubles
Steven Diez / Nikola Milojevic (SRB)
1st rd: lost to [WC] Martin Landaluce / Daniel Rincon (ESP) [ALT] Christian Harrison (USA) / Shintaro Mochizuki (JPN) 61 61
Singles qualifying
[5] Steven Diez
1st rd: lost to [ALT] Miguel Damas (ESP) 75 75
***********************************
Copa Oster
Cali, Colombia (

WTA 125

)

Singles
[7] Carol Zhao
1st rd: lost to Emiliana Arango (COL) 64 63
Singles qualifying
Cadence Brace
1st rd: def [2] Kyoka Okamura (JPN) 62 63
Final rd: lost to [5] Martina Colmegna (ITA) 61 64
***********************************
CMDX Open
Mexico City, Mexico (ITF $40,000)

Singles qualifying



Ana Grubor
1st rd: lost to [11] Caroline Romeo (FRA) 60 63

***********************************
W60 Rome, GA
Rome, Ga. (Women's ITF $60K)
Singles
[Q] Kayla Cross
1st rd: lost to Lulu Sun (SUI) 64 60
Doubles
[WC] Kayla Cross / Katherine Hui (USA)
1st rd: lost to Fanny Stollar (HUN) / Lulu Sun (SUI) 63 75
Singles qualifying
Kayla Cross
1st rd: def [6] Fanni Stollar (HUN) 62 61
Final rd: vs. Kennedy Shaffer (USA) 63 26 61

***********************************
Sharm-El-Sheikh Men's Future
Sharm-El-Sheikh, Egypt (ITF 15K)
Singles qualifying
[11] Zelimir Rudan
1st rd: def Dzhordzho Binda (RUS) 75 62
2nd: def. Alexandru Cristian Dumitru (ROU) 67 75 [11-9]
FInal rd: lost to [4] Tomas Lanik (SVK) 61 60
************************************
About Post Author