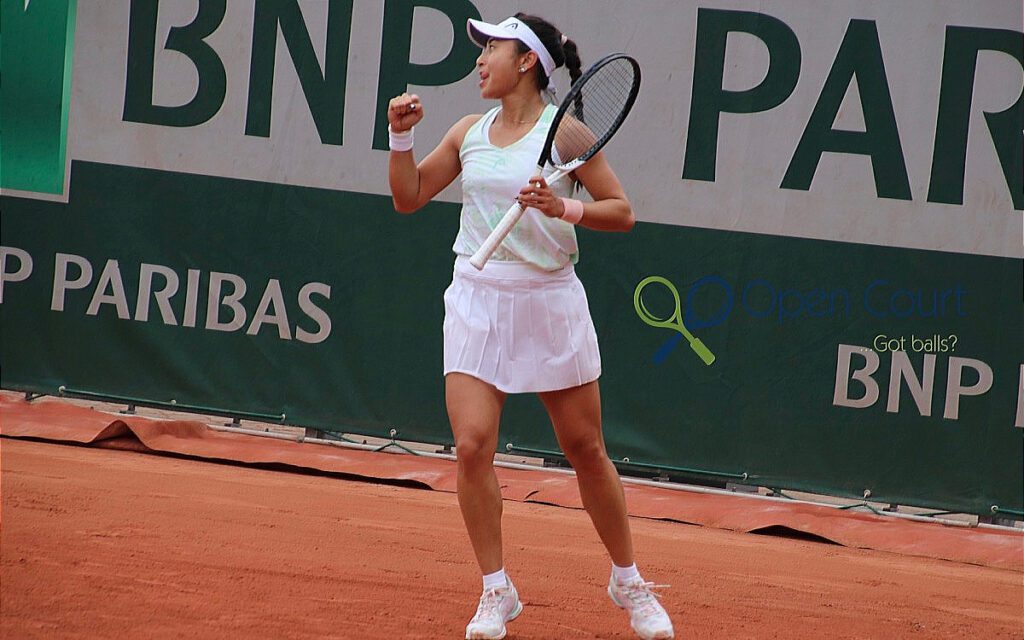 –
PARIS – The third day in Paris is the second round of qualifying.
And with Katherine Sebov being eliminated Tuesday by Petra Marcinko, only Carol Zhao was left to carry the flag on the women's side. She played a tough 17-year-old lefty named Sarah Bejlek who was pretty impressive.
Other matches to watch: Polona Hercog, back after a full year away, plays Mirjam Bjorklund (also known as Denis Shapovalov's better half). But her marathon first-round win proved too much to recover from, after that long absence.
And No. 1 seed Camila Osorio played an opponent who hasn't been seen at the Grand Slam level in forever, but who pulled out her first-round match: Sesil Karatantcheva. It wasn't pretty, but Karatantcheva was happy to be back, after nearly five years away.
*****************************
Roland Garros

Location:

Paris, France


Category:

Grand Slam


Surface:

Red Clay


Dates:

May 28 – June 11, 2023


Total Prize money:

$23,352,500


Draws:

S128 – D64
Wednesday, May 24, 2023
Results

Qualifying, second round
Canadian Content
Sara Bejlek (CZE) def Carol Zhao (CAN) 64 61
Retirements
[21] Ylena In-Albon (SUI) def. Francesca Jones (GBR) 41 retd
Upsets
Mai Hontama (JPN) def [12] Yuan Yue (CHN) 46 63 62
Taylor Townsend (USA) def [20] Kaja Juvan (SLO) 16 63 64
Ashlyn Krueger (USA) def. [24] Katie Boulter (GBR) 62 26 76 [10-6]
Elsa Jacquemot (FRA) def [28] Harriet Dart (GBR) 16 61 62
Seeds advancing
[1] Camila Osorio (COL) def. [PR] Sesil Karatantcheva (BUL) 60 61
[3] Arantxa Rus (NED) def. Barbora Palicova (CZE) 63 64
[4] Tamara Zidansek (SLO) def Anastasia Zakharova (RUS) 36 62 62
[10] Elizabeth Mandlik (USA) def. Arina Rodionova (AUS) 61 46 61
[11] Nao Hibino (JPN) def. Valentini Grammatikopoulou (GRE) 61 61
[13] Erika Andreeva (RUS) def Olivia Gadecki (AUS) 64 46 61
[14] Simona Waltert (SUI) def Kristina Dmitruk (RUS) 76 (6) 62
[15] Elina Avanesyan (RUS) def. Lesley Pattinama Kerkhove (NED) 63 46 63
[17] Clara Tauson (DEN) def Petra Marcinko (CRO) 62 61
[18] Aliona Bolsova (ESP) def Chloe Paquet (FRA) 64 67 (2) 64
[19] Viktoria Hruncakova (SVK) def [WC] Nina Radovanovic (FRA) 75 76 (1)
[22] Laura Pigossi (BRA) def. Noma Noha Akugue (GER) 76 (2) 63
[25] Greet Minnen (BEL) def. Elena-Gabriela Ruse (ROU) 64 61
[26] Kayla Day (USA) def. Miriam Bulgaru (ROU) 64 61
[27] Olga Danilovic (SRB) def Yanina Wickmayer (BEL) 63 62
[29] Brenda Fruhvirtova (CZE) def Kathinka Von Deichmann (LIE) 76 (4) 61
[30] Moyuka Uchijima (JPN) def. Ankita Raina (IND) 76 (1) 61
Other results (in alphabetical order)
Mirra Andreeva (RUS) def. Emiliana Arango (COL) 60 62
Mirjam Bjorklund (SWE) def [PR] Polona Hercog (SLO) 60 61
[WC] Fiona Ferro (FRA) def Caroline Alves (BRA) 60 76 (5)
Jaimee Fourlis (AUS) def Maria Lourdes Carlé (ARG) 64 57 62
Storm Hunter (AUS) def Mona Barthel (GER) 63 62
[WC] Alice Robbe (FRA) def Reka-Luca Jani (HUN) 76 (4) 64
Iryna Shymanovich (RUS) def [WC] Margaux Rouvroy (FRA) 76 (0) 76 (4)
Maria Timofeeva (RUS) def Maja Chwalinska (POL)16 62 61
Dayana Yastremska (UKR) def. Sachia Vickery (UTA) 62 57 63
About Post Author