–
A major means major changes in the rankings – especially as those Wimbledon points hanging about since 2019 finally disappear.
Novak Djokovic, who wins major No. 20, sits 1,743 points ahead of No. 2 Daniil Medvedev – and 3,843 points ahead of Rafael Nadal.
And Canadian Denis Shapovalov is back in the top 10, tying his career best after making the Wimbledon semifinals.
For the full ATP rankings picture, click here.
ON THE UPSWING
Matteo Berrettini (ITA): No. 9 ==========> No. 8 (He reached the final, but only moves up one spot – to a career high No. 8).
Denis Shapovalov (CAN): No. 12 ==========> No. 10 (The Canadian is back into the top 10, tying a career high first reached last September after his semifinal effort in Rome).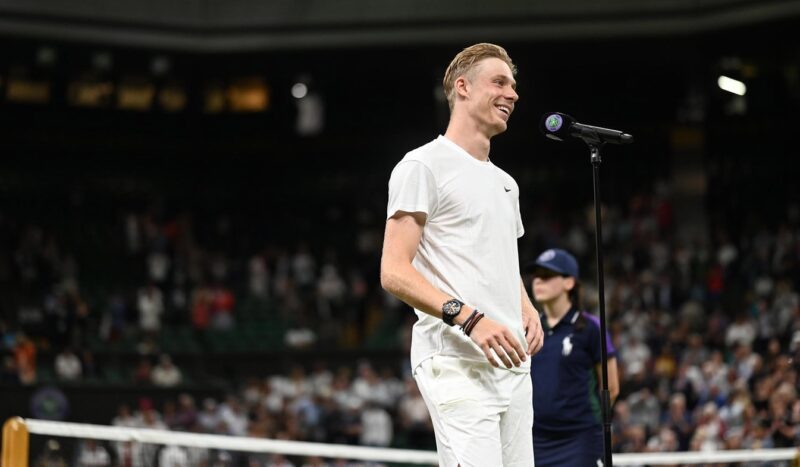 Hubert Hurkacz (POL): No. 18 ==========> No. 11 (Hurkacz has two big-time results this year – a title in Miami and a semifinal at Wimbledon. And he leaps way up to a career high).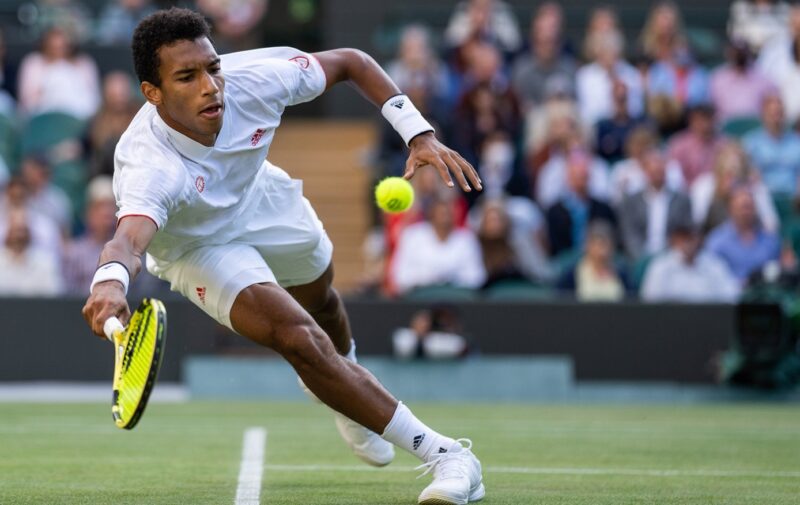 Félix Auger-Aliassime (CAN): No. 19 ==========> No. 15 (Another level reached as Auger-Aliassime reaches the top 15 before his 21sth birthday. He squeezes in 13 points ahead of No. 16 Casper Ruud, and just 27 points behind Bautista Agut at No. 14. From there, to No. 12, is not very far).
Karen Khachanov (RUS): No. 29 ==========> No. 25
Marton Fucsovics (HUN): No. 48 ==========> No. 39
Sebastian Korda (USA): No. 50 ==========> No. 46 (The American, who turned 21 last week during Wimbledon, moves inside the top 50 to a new career high. His match against Khachanov – for better or worse – will be one of the ones that will be remembered from the fortnight).
Aljaz Bedene (SLO): No. 64 ==========> No. 56
Ilya Ivashka (BLR): No. 79 ==========> No. 63 (The 27-year-old made Manic Monday, losing to eventual finalist Berrettini. And he jumps to a career best).
Facundo Bagnis (ARG): No. 92 ==========> No. 74 (The 31-year-old Argentine wins the Challenger in Salzburg, over his countryman Coria in the final).
Federico Coria (ARG): No. 87 ==========> No. 77 (At 29, the younger brother of Guillermo Coria is at his best-ever ranking after making the Salzburg final. It comes almost exactly three years after he was finally suspended for some match-fixing offences that occurred in 2015. Coria first appeared on the rankings list in Oct. 2009 and it been a long, slow, gradual climb since then).
Andy Murray (GBR): No. 118 ==========> No. 102 (That should get him into the US Open without needing a wild card).
Altug Celikbilek (TUR): No. 247 ==========> No. 199 (At 24, The Turk moves into the top 200 after years of toiling – and edges past his countryman Cem Ilkel to become the No. 1 Turk).
Nicolas Jarry (CHI): No. 309 ==========> No. 271 (The Chilean continues his climb back from rankings oblivion, after a positive doping test, and gets into the top 300X. He was at a career-high No. 38 just two years ago. And he had no ranking at all just five months ago).
ON THE DOWNSWING
Dominic Thiem (AUT): No. 5 ==========> No. 6 (Thiem, who missed Wimbledon, only drops one spot. And even then, he's just 50 points behind Alexander Zverev, who moves up to No. 5. But it's the lowest his ranking has been since March 2019).
Roger Federer (SUI): No. 8 ==========> No. 9 (If there's something Federer knows how to do, it's keep his ranking in the top 10. He reaches the quarters, but only loses one spot in the rankings after dropping his finals points from 2019).
Roberto Bautista Agut (ESP): No. 10 ==========> No. 14
David Goffin (BEL): No. 16 ==========> No. 20 (The 30-year-old's hard-luck year is showing in the rankings a bit, as he drops to No. 20).Benoit Paire (FRA): No. 46 ==========> No. 51 (He's out of the top 50 for the first time since May, 2019. But he's back at it this week on the clay).
Kei Nishikori (JPN): No. 54 ==========> No. 68 (Nishikori drops quarterfinal Wimbledon points from 2019, and lost in the second round to Jordan Thompson this year).
Guido Pella (ARG): No. 59 ==========> No. 75 (The Argentine reached the Wimbledon quarterfinals in 2019, beating Kevin Anderson and Milos Raonic en route. He lost in the first round to Matteo Berrettini this year. In retrospect – and even at the time – it's hardly a bad loss. But Pella has won just three matches this year, one of them in the ATP Cup round robin. It's the lowest his ranking has been since July 2018).
Tennys Sandgren (USA): No. 68 ==========> No. 78
Steve Johnson (USA): No. 74 ==========> No. 83
Mikhail Kukushkin (KAZ): No. 105 ==========> No. 124 (The 33-year-old, who made Manic Monday in 2019, got just seven games against Alexander Bublik in the first round of Wimbledon this year. That drop puts him out of range of a main draw spot at the U.S. Open).
Fernando Verdasco (ESP): No. 106 ==========> No. 125 (See Kukushkin, above. Verdasco also made the fourth round two years ago, but lost in the first round to Grigor Dimitrov this year. It feels as though he's slowly wrapping it up, but it's hard to picture him playing the qualifying in New York).
Ivo Karlovic (CRO): No. 194 ==========> No. 208 (At 42, the Croat has become basically a "local" player, with guest appearances at some of the majors. He has a wild card into the Newport grass-court tournament this week).
Jack Sock (USA): No. 229 ==========> No. 231 (Sock is back with a wild card in Newport. No doubt he'll get a few more during the American hard-court swing, and get … get back into the swing of things).
Brayden Schnur (CAN): No. 233 ==========> No. 248 (It's not really going in the right direction for the 26-year-old Canadian, who is in the qualifying in Newport this week).
Noah Rubin (USA): No. 286 ==========> No. 301 (From a career high of No. 125 back in 2018, The 2014 Wimbledon junior champion, who has played just two matches in 2021, has fallen out of the top 300 for the first time since Jan. 2016. He is playing in Newport this week).
The Canadians
Liam Draxl, a standout at the University of Kentucky, moves into the top 750 with his effort to get to the final of a 15K in Weston, Fla. Unfortunately, they were never able to finish the match because of persistent rain, so he had to settle for finalist's points.
The Race to Turin
Next-Gen Race
Auger-Aliassime edges closer to Jannik Sinner at the top of the Next-Gen race.